North Florida basketball falls to No.11 Miami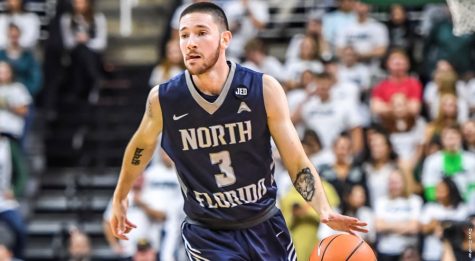 Men's basketball (1-7) troubles on the road continued with a turnover-filled 86-65 loss to No.11 Miami Hurricanes (5-0) in Coral Gables, two days after Thanksgiving.
North Florida struck first with a three-pointer from Ivan Gandia-Rosa but they didn't stay ahead for long over the in-state foe.
The Hurricanes quickly responded and took an 8-5 lead on their home court and held the usual hot-shooting Ospreys cold from the field with an icy 4 for 16 early in the game.
North Florida looked to cut the deficit late in the half, knocking down three out of its four from downtown to close the gap 30-23.
In the first half, UNF couldn't find their way to the free throw line while Miami went 11 times.
Heading into the break, Miami held a 38-25 advantage after five Ospreys' turnovers in the final minutes of the half.
When the second half action began, both teams picked up their pace on the hardwood with multiple baskets.
Back-to-back three-pointers by the Ospreys came late as a sign of life against the ACC powerhouse, but it wasn't enough to overcome the gap.
A usual three-pointer threat, the Birds of Trey only converted eight out of 26 attempts for just over 30 percent.
The team managed to be nearly perfect from free line in the second half, picking up 11 out of 12 freebies.
Miami racked up 21 points from North Florida's 20 turnovers. On the opposite end of the floor, UNF collected only seven points from Miami's 14 miscues.
The Ospreys finished 39 percent from the field while the Hurricanes closed out the afternoon with a 50 percent completion rate.
On the glass, North Florida reeled in 32 compared to Miami's 39.
J.T. Escobar lead the team with 16 points while freshman Trip Day came off the bench for 10. Five players finished in double digits for Miami behind Anthony Lawrence and Bruce Brown, who both had 14 points.
North Florida returns to the UNF Arena to face Eastern Michigan Nov. 29 at 7 p.m.
__
For more information or news tips, or if you see an error in this story or have any compliments or concerns, contact [email protected].