The history and people behind UNF buildings
Have you ever wondered who were the people behind the names of the buildings you enter everyday? The University of North Florida is comprised of over 60 buildings, and many of them are named in honor of those with close ties to UNF. Some of these buildings, hundreds of students walk through on a daily basis, have a story behind them.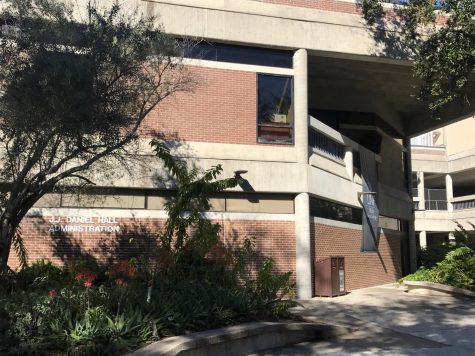 J.J. Daniel Hall (Bldg.1) was named in honor of Jaquelin James Daniel. Born and raised in Jacksonville, Daniel was a leader, an attorney, and a businessman. He was an advocate for academic freedom, and dedicated his time and money to aid Florida's higher education.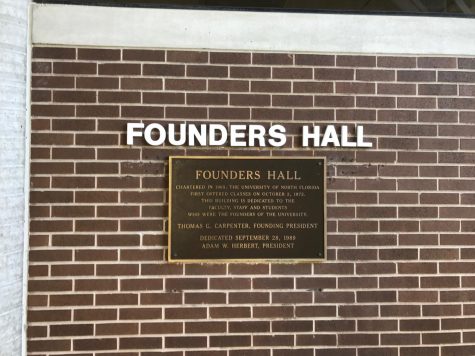 Founders Hall (Bldg. 2) is named in honor of the student body, faculty, and staff, who were present during the first year of classes at UNF.
Skinner-Jones Hall South and North (Bldg. 3 & 4) have been on campus since the university's beginning. In 2013, the buildings were named after Arthur Chester Skinner Jr., Charles Brightman Skinner and Mary Virginia Skinner Jones. The family had donated and sold about 500 acres of land to UNF for its' development and expansion. The building has been going through some reconstruction for the past year, but will be expected to be completed by next semester.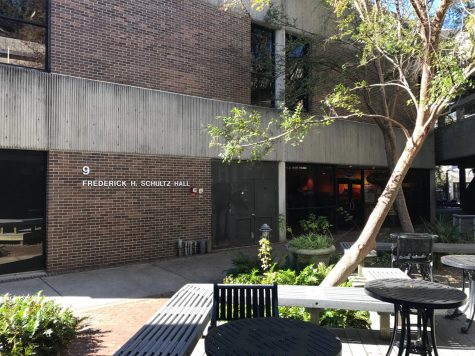 Frederick H. Schultz Hall (Bldg. 9) was originally built to be the College of Education and Human Services, but it is now used as space for offices, classrooms, and dining facilities like Outtakes, Chop'd and Wrap'd. The building was named after Frederick H. Schultz, who donated money to UNF in 1987. He was an advocate for education and a founder of the Schultz Center for Teaching and Leadership.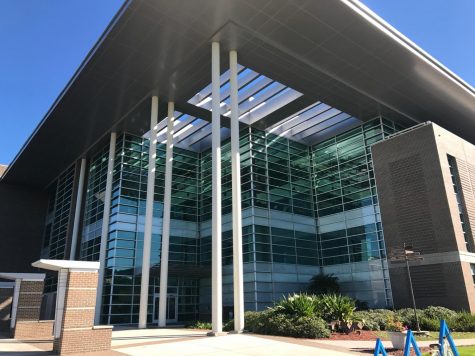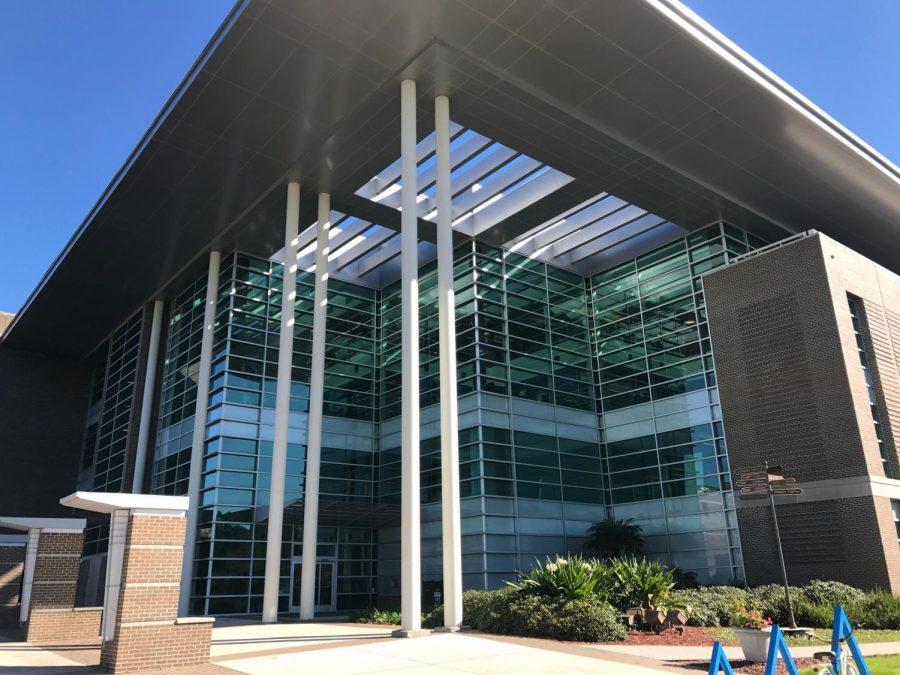 Next, the Thomas G. Carpenter Library (Bldg. 12) was named in honor of the founding President of UNF, Thomas Glenn Carpenter, who served from 1969 to 1980.
The Andrew A. Robinson Jr. Building/Theater (Bldg. 14/14A) was given its name in honor of the first dean of faculties. The building has many purposes, but is most well known as the Fine Arts Center.
The Computer Science Building (Bldg. 15), which was built in 1988, was named after John E. Mathews Jr.. He was a Florida legislator who worked to expand the state university system.
Dedicated to Doug and Linda Harmon, the Harmon Baseball Stadium (Bldg. 27) seats around 1,000 people. The stadium was named in honor of the Harmons due to their donations to UNF Athletics, and specifically the baseball program. Additionally, Doug Harmon helped the baseball program get started, and he and his wife helped raise money for the stadiums' development. Harmon also helped create the Osprey Club, which he then became the first president for.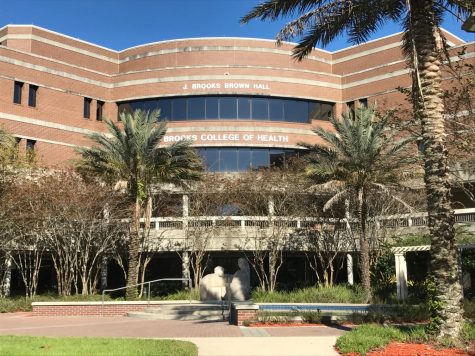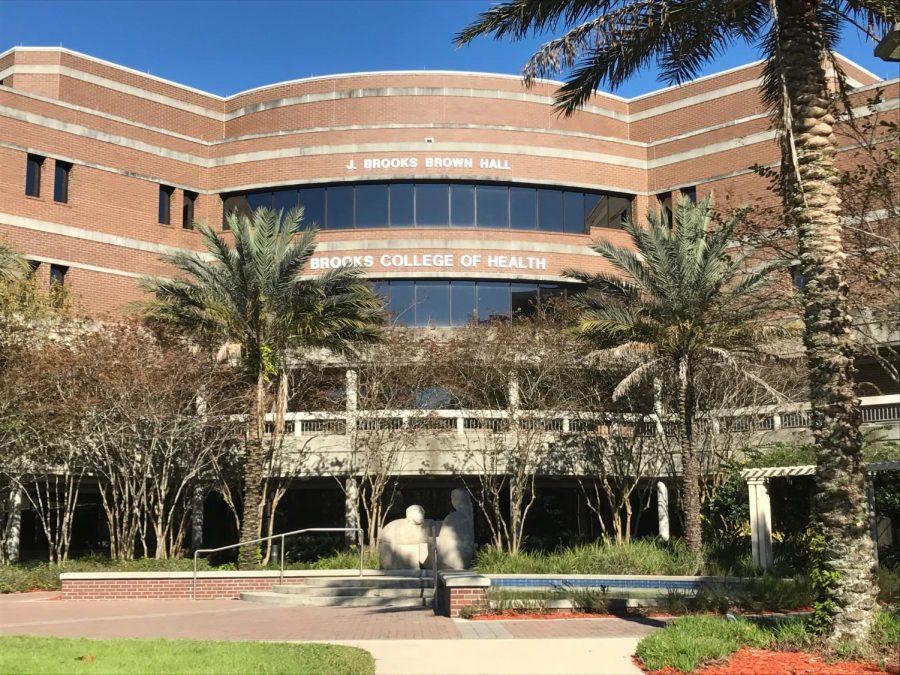 Brooks Brown Hall (Bldg. 39) is the location of the College of Health. The building is named after J. Brooks Brown, who was a Jacksonville physician and leader in healthcare education. Brown was also a benefactor of UNF.
The Martin P. Garris Police Building (Bldg. 41), located by Parking Lot 14, is the main location of the University Police Department. The building was named after Garris, a former UNF Police Chief who fought against racial barriers in the police force and worked to create an environment of communication between the community and the police.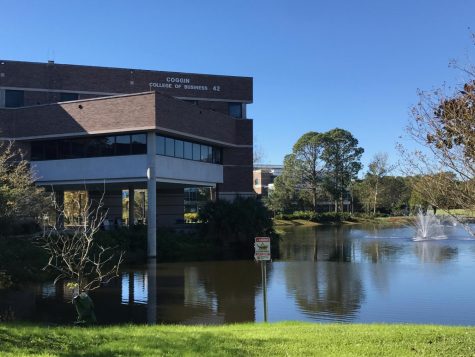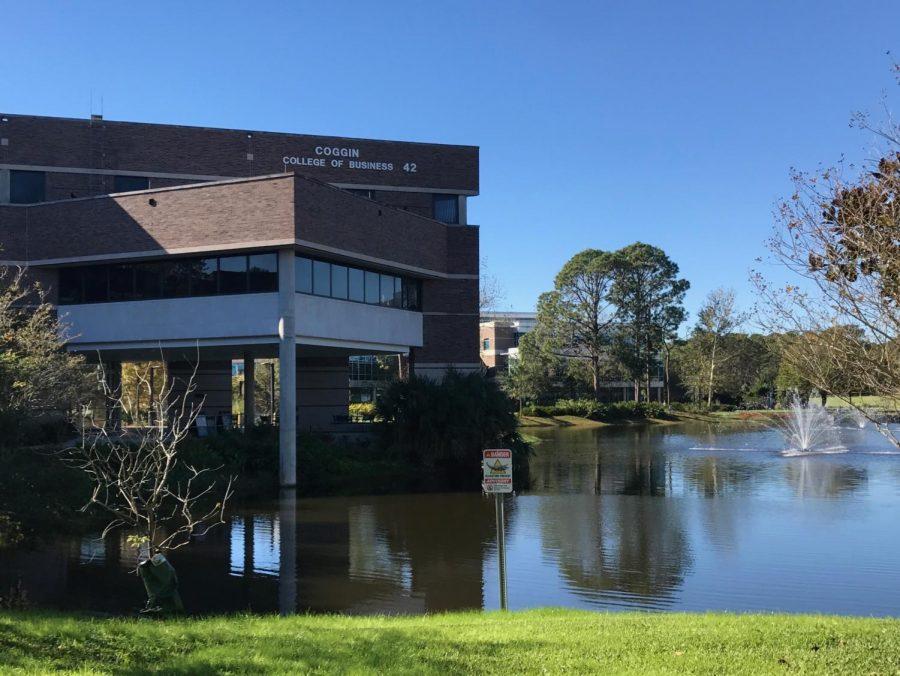 The Coggin College of Business (Bldg. 42) was named in honor of Luther Coggin. Coggin was part of UNF's Board of Trustees for eight years. He has served UNF and the Jacksonville community with his wife Blanche Coggin by providing numerous scholarships, fellowships, and professorships through the college.
The Adam. W. Herbert University Center's (Bldg. 43) main feature is that it has rooms that can hold groups of up to 700 people. The building was given its' name in honor of former UNF President Adam William Herbert, Jr., who served from 1989 to 1998.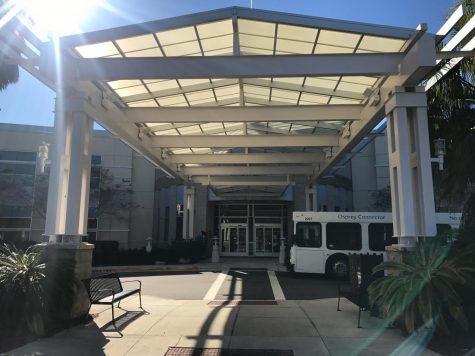 Ann and David Hicks Hall (Bldg. 53) is located off Kernan Road and across from the Flats. Located in this building is One-Stop and the Lend-a-Wing Pantry. Hicks Hall was named after Ann and David Hicks in 2012 due to their leadership and support for Northeast Florida. Ann Hicks was part of the first Board of Trustees at UNF, as well as the Foundation Board. David Hicks supported local groups like the Jacksonville Housing Authority and Jacksonville's Habitat for Humanity. Together, the Hicks created the Gray Scholarship Program, which has successfully distributed scholarships to numerous students at UNF. Additionally, they are benefactors and founders of the Hicks Honor College.
The J. M. Golden Environmental Education Pavilion (Bldg. 54) can be found alongside Eco Adventure, the nature trails, and Lake Oneida. The pavilion was named in 2008 in honor of John Golden, who was the first Chief Wildfire Sanctuary Ranger at UNF. The pavilion is used for meetings and programs connected to UNF's natural preserves.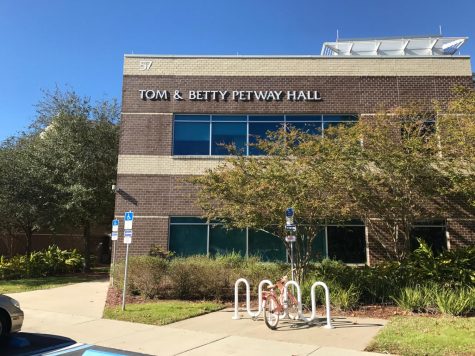 Lastly, Tom and Betty Petway Hall (Bldg. 57) named in honor of Tom and Betty Petway, is the location of the College of Education and Human Services. Tom and Betty Petway are leaders in the community, who have shown their support for Florida education and literacy. Tom Petway served on the State University System's Florida Board of Regents. Betty Petway, a UNF alumnus, worked with organizations like the Children's Home Society and the Jacksonville Jaguars Foundation. She was also a former member of the UNF Foundation Board.
UNF has honored many people through the naming of buildings, and as UNF changes, grows, and develops, other buildings will most likely be named in honor of someone (or a group of people) as well. For now, it is the buildings listed above, which will continue to stand as a beacon of dedication to the individuals they honor.
__
For more information or news tips, or if you see an error in this story or have any compliments or concerns, contact [email protected].