Men's basketball team losing skid continues with LSU loss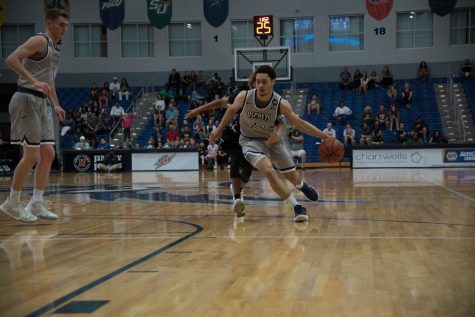 The men's basketball team dropped their third straight road game after a week long trip that ended in Louisiana on Dec. 22 to the LSU Tigers 104-52 in a turnover-filled night.
Once again, there was a shakeup in the North Florida starting lineup with freshman Trip Day getting the nod over sophomore transfer Noah Horchler. This is the second change this month after Garrett Sams hurt his ankle during the last home game on Dec. 13 against FIU, which led to Ryan Burkhardt receiving the starting role.
Early in the contest, it was raining threes from both teams in the arena. North Florida held a slim 11-10 lead over the home team for a short moment before the game began to move into the Tigers favor.
Hot from downtown themselves, LSU sparked multiple runs and created space between them and North Florida.
Unlike the home team, the Ospreys cooled down rapidly and struggled from the floor throughout the first half, and only made eight out of 30 shots. In several instances of the night, North Florida went through long scoring droughts that lasted minutes as LSU continued to run down the court to watch the basket swish for themselves.
At the break, LSU held a 54-23 advantage locking in the largest lead over an opponent at the half since 2008.
When the second half resumed, the scoring struggles and turnover battles didn't disappear for the Ospreys.
JT Escobar had his own 8-0 run in the second half behind a pair from the arc, but the Tigers had pushed their lead to a strong 88-39 late in the game.
During the final stretch, a scoring drought plagued North Florida as LSU rolled on another run to close out the night.
UNF made 20 miscues, which lead to 30 points on the opposite end of the floor for LSU. North Florida shot 32 percent from the field while LSU made 54 percent of their baskets. UNF converted only 19 out of its 60 attempts, a stark contrast to the LSU's 43 out of 80. The usual hot handed three-pointer team knocked in 11 from downtown for their ninth game in double figures with the deep ball.
Day, the lone double-digit scorer for the Ospreys, finished his night with 11 points, and fouled out with a minute left in the game.  Four of out five LSU starters ended their night in double digits, led by Duop Reath and Tremont Waters with 15 points a piece.
The men's basketball team has a short holiday break before returning on the road to face Mississippi State on Dec. 30.