Men's Basketball falls to Mississippi State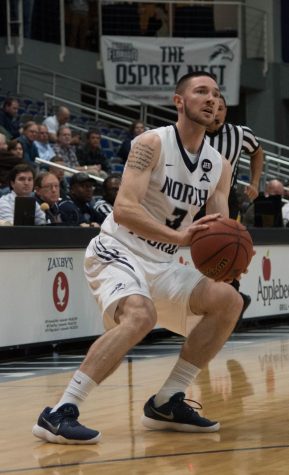 A second-half slump pushed a road win out of reach for North Florida (5-11) as they fell 109-81 to the Mississippi State Bulldogs on Dec. 30.
Once again, there was a change to the starting five with sophomore Noah Horchler returning back to the lineup.
In the first half, the Ospreys came out strong, and held an early lead over the Bulldogs in the Humphrey Coliseum in the back-and-forth affair.
With four from downtown, North Florida locked the score at 21 before two Mississippi State's free throws broke the tie. The Ospreys knotted the score up once again at 41 when they knocked down three more from behind the arc while the Bulldogs went empty on seven trips from deep.
At the break, Mississippi State held a slim 47-43 lead over North Florida in front of their home crowd.
When second-half action resumed, the Bulldogs started off hot, and created a quick run to hit the Ospreys in the mouth early. As each minute passed, Mississippi State added to their run, and pushed their lead to a commanding 61-46 score over North Florida. UNF struggled from the floor with five turnovers, and hitting only one out of six shots.
Mississippi State sparked another run midway through the half to hold a 79-52 advantage over North Florida. Late in the matchup, the Ospreys began to chip away at the deficit, but it wasn't enough to take over the game and leave with the win.
In the second half, Mississippi State outscored North Florida by 24 points (62-38) after only holding a four point lead at the break.
Freshman forward Trip Day came off the bench and finished his night with a team-high of 17 points. He led three other teammates in double digits. Mississippi State forward Aric Holman had a career-high 23 points to led four other teammates in double figures for the game.
North Florida shot 43 percent from the field compared to Mississippi State's 62 completion rate. From behind the arc, UNF took the edge and knocked in 12 to only 7 from MSU. Both squads committed 14 turnovers during the first-time matchup that was primarily controlled by Mississippi State.
The men's basketball team closes out their non-conference games at the UNF Arena, and will face Florida National on Jan. 2.