Who to Root for in the National Championship?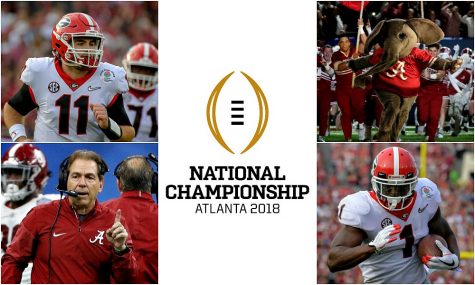 While the University of North Florida's football team remains undefeated since the school's opening, they won't be playing in tonight's College Football Playoff National Championship. So, between No. 3 Georgia (13-1) and No. 4 Alabama (12-1), who should you be rooting for?
With the annual Florida vs. Georgia game being held at Everbank Field, it would be easy for UNF students to transplant their fandom to the Georgia squad simply out of relative closeness to the team. But, many UNF students also happen to be UF fans, and cheering for Georgia might come across as dishonorable to families who live and breathe by the Gator chomp.
On the other hand, it is easy to hate the success of Alabama. Having won four of the last eight national championships, a win this year would bring them to a New England Patriots status as one of the most successful and antagonistic sports teams in modern history. Regardless, the Crimson Tide holds significance in the South and college football as a whole.
Alabama is an easy team to jump on the bandwagon for and many experts have given them a slight advantage over Georgia.
If neither of these teams strike your fancy, you can also root for the true underdogs of college football, the University of Central Florida Knights, whose undefeated season granted them an automatic national championship win despite not winning or even making it to the College Football Playoff. But hey, if Florida Gov. Rick Scott declares the Knights national champions, who are we to argue?
So whether you've hopped on the Crimson Tide bandwagon, barking with the Bulldogs or just cheering on that kid at halftime throwing footballs into a trash can for a scholarship, there is definitely someone for UNF students to pull for in tonight's CFP National Championship.
__
For more information or news tips, or if you see an error in this story or have any compliments or concerns, contact [email protected].