Osprey Productions' Winter Fest
Video by Angie Villada. 
On Friday, UNF welcomed winter with Osprey Productions' annual festival, Winter Fest.
Students, faculties, and guests filled the Student Union Plaza as the festivities took place. Food trucks, caricature artists, carriage rides and a photo booth served as the main entertainments for the night.
The caricature activity was one of students' favorite. The line was long, but all student had the chance to take a drawing home.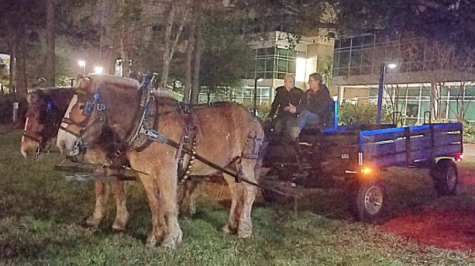 A lot of people were expecting to see fake snow (which there wasn't), but I wasn't expecting to see two beautiful healthy-looking horses at the event. For those who missed the event, you might have guessed horses were on campus because they left a particular smell.
Students who signed a waiver were allowed to enjoy a carriage ride around campus. Two girls who live on campus facetimed their family while riding the carriage to show them how fun they were having. To be honest, bringing horses on campus was probably the best idea.
We all know free food is the main reason students go to these events. CackyLacky's and Twisted T's Waffles food trucks were present to satisfy students taste buds. Students had several choices from CackyLacky's all-beef hot dogs to Twisted T's variety of waffles.
The photo booth was a big factor at the event. I mean, It isn't a party without having a picture, right? Instant films are back in style, and UNF knows it. The phone did not mean much in the photo booth as the instant camera played the main role. Everyone was happy to have a nice print of the snap taken. Perhaps, it was a perfect picture to put in your wallet or scrapbook.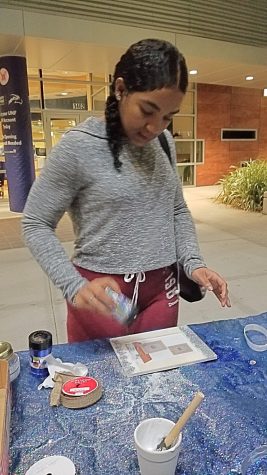 For some of us, it's hard to get in touch with our creative side, especially when everything creative we do involve our thumbs or a keyboard. At the craft station, students had the choice to decorate a picture frame or a small jar. It was nice to take a break from the routine and get crafty.
It shouldn't feel weird to touch glue and glitter, but it did. Some will say it's letting the inner child out, but maybe it is remembering there is more out there than just our phones. Everyone seemed proud of their masterpieces created.      
If you weren't there, you missed out on an eventful winter night here at UNF. You never know what you might find at UNF's event. This time there were beautiful horses maybe next time will be puppies.