Women's basketball falls to Stetson
Coming off one of women's basketball biggest victories, the Ospreys (10-13 overall,3-5 ASUN) dropped their Feb. 3 home game to Stetson (14-10 overall,5-3 ASUN), 68-51.
The game started off very slow for North Florida as Stetson came out and forced the home team to match the effort and hustle inside the paint. By the time the first quarter was over, the Hatters were already in control of the game with a 15-5 lead.
Head Coach Darrick Gibbs noticed his squad was the less stubborn of the two teams early as they settled for shots instead of going inside the paint.
"We knew the Hatters were going to come out and play zone, and make us take shots from outside the paint,"Gibbs said.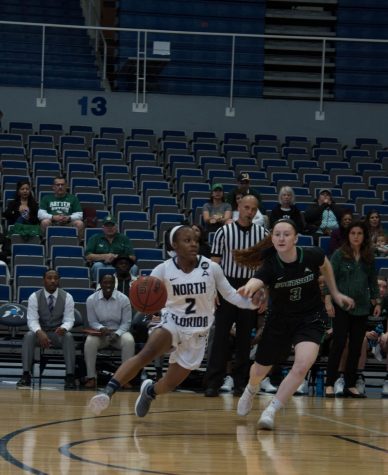 For most of the game, the Hatters were able to control the game with strong play inside the paint outscoring the Ospreys 44 to 16. Stetson capitalized on their 53 rebounds, and posted 30 second-chance points.  
With their tough defense, the Hatters forced the Ospreys to take 24 three-point shots in the game.
In the second half, North Florida began to match the fast pace tempo, and posted 32 points. Despite the offensive shift, the Ospreys'  sluggish performance in the first half led to a hole too big to overcome later in the matchup.
Senior forward Keonna Farmer got off to a dreadful start in the first half as she shot 0-from-6 from the field, but finished the second half very strong to lead all teammates with 14 points.  
"In the first half, we came out like we were shook like we didn't know what they were going to do to us defensively,"  Farmer said.  "So, we just settled offensively and defensively. We didn't execute like we were suppose to get the rebounds. But the second half, I felt like we picked it back up, but we couldn't string along consecutive stops offensively and defensively."
The women's basketball team will look to bounce back as they head down to Fort Myers to face FGCU once again on Feb.6.
                    Photos by Lili Weinstein