Lipscomb Red-Hot Start Too Much for North Florida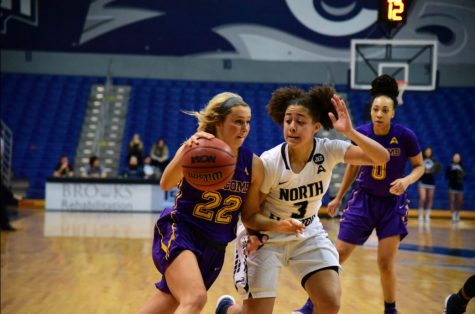 In an important game with playoff seed implications, North Florida (10-15 Overall, 3-7 ASUN) could not get it done on the road against the Lipscomb Bisons (10-15 Overall, 6-4 ASUN) as they fell 78-57 on Feb.10.
Turnovers and an early offensive outburst from the Bisons spelled doom for the Ospreys.
In the opening period, Lipscomb made a statement early by knocking in quick three-pointers generating a 9-1 lead. Although the Ospreys made 60 percent of their shots in the opening quarter, it was not enough to cool down the red-hot Bisons, who shot over 75 percent from behind the arc.
North Florida fell victim to turnovers conceding six in the first quarter and 11 in the first half. The Ospreys struggled to keep the game close and often traded baskets with the Bisons. Lipscomb closed out the first quarter and led North Florida, 29-18.
The second quarter ended up being a carbon copy of the first. Lipscomb continued to be almost lights out from three while North Florida continued to look for success in scoring.
The Bisons were cruising at halftime, 49-29.
In the second half, Lipscomb continued to pour it on North Florida, and dialed up more threes from Loren Cagle and Emily Kmec. The Bisons were sitting with a large margin until the Ospreys battled back in the fourth.  
It took a group effort from multiple Ospreys to cut into the Lipscomb lead. North Florida ultimately could not dig themselves out of the deficit, and lost to Lipscomb on the road.
The Ospreys had 19 miscues compared to Bisons' 12 for the game.
Ty Purifoy led the Ospreys with 10 points in the game. North Florida's star Keonna Farmer struggled to find any success this afternoon as her shots would not drop. Farmer finished with 5 points and seven rebounds.
Lipscomb Forward Kmec led the Bisons with fifteen points while leading three other teammates in double figures. Lipscomb Guard Cagle's 15 points this afternoon totaled her career count to over 1,000 points.
North Florida continues their road trip as they take on Kennesaw State (7-14 Overall, 3-7 ASUN) on Feb.12.
—
For more information or news tips, or if you see an error in this story or have any compliments or concerns, contact [email protected].