JU sweeps North Florida in last game of the regular season
Photos by Khorri Newton
The Jacksonville Dolphins (22-7 Overall, 12-2 ASUN) were able to sweep the Ospreys (12-17 Overall, 5-9 ASUN) with a 64-43 victory to close out the regular season.
There were many smiles all around for Jacksonville fans and family as the Dolphins thumped the Ospreys at Swisher Gym to complete the sweep. North Florida struggled heavily against a pesky Jacksonville's defense and suffered from missing field goals.
In the opening quarter, Jacksonville was able to get on the board first with a basket from guard Jasmyn Brown. Brown and senior forward Kayla Gordon chipped in early baskets boosting Jacksonville over North Florida. The Ospreys were able to respond back with baskets from seniors Keonna Farmer and Tesh Hanson bringing the score within two.
Unfortunately, that would be as close as the Ospreys got in Saturday's contest. North Florida began struggling heavily with high percentage shots around the basket.  The Ospreys ended up being outscored in the paint, 10-4. The Ospreys struggled to grab rebounds and fought against larger bodies. Jacksonville sensed North Florida's struggles and cashed in on their miscues. Jacksonville generated a 37-18 lead at the half.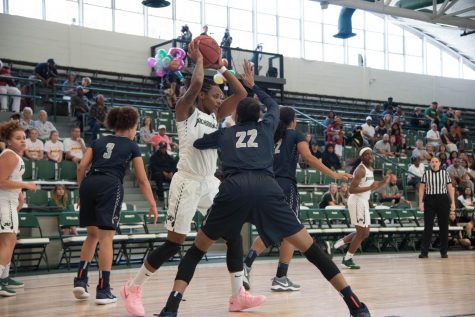 Coming out of halftime, the Ospreys shooting struggles continued. North Florida had difficulty securing rebounds and establishing a rhythm. Jacksonville continued to pour it on the Ospreys with contributions from the starters to the bench. Dolphins' guard Shakayla Nevitt led the charge and scored nine of their 17 points from the bench.  
North Florida continued to remain ice cold from the field shooting just 20 percent despite an impressive defensive performance. Jacksonville was able to keep down a determined Ospreys team to seal the game.
Farmer scored 16 points for the North Florida in the loss.  Maiya Rumph scored four points and chipped in seven rebounds for the Ospreys. Jacksonville Brandi Buie scored 15 points for the Dolphins while Brown followed up with 14 points.
"I thought defensively we played well enough to give ourselves an opportunity to compete and be in the game," said Coach Darrick Gibbs. "Offensively, we struggled. They [Jacksonville] are the number one defense in the league for a reason, and it came out tonight."
Jacksonville is currently the top defensive team holding opponents to 53.6 points per game; FGCU is just a hair away who holds opponents to 55.4.
With the end of the regular season now in the books, both teams will head into the ASUN Tournament. The Ospreys finished the season as a sixth seed, so North Florida will go on the road to face third seed Stetson (17-13 Overall, 8-6 ASUN) in their first match of the ASUN Tournament.