UNF raises almost $2,000 for Parkland victims
Last week, two fundraisers raised $1,840 for the school shooting victims in Parkland, Florida.
The UNF Social Work Club hosted a bake sale on Feb. 26. The club wanted to be able to raise at least $100. Though the bake sale only lasted a couple of hours, the club surpassed their goal and raised four times their original goal with $440.
The bake sale wasn't organized like your usual bake sales that have a set price for every baked good. There were no prices for any of the options offered. Instead, students gave any amount they could and received a treat with their donation. Some students gave what they could with a quarter or two while others donated up to $20 for a baked good.
"'I'm blown away by the support that we got for several students and professors," President of the UNF Social Work Club Jennifer Santana said. "It was one of the most rewarding activities that we've done."
All of the money raised in the bake sale went towards a GoFundMe created by the Broward Education Foundation. The foundation is a nonprofit that works with the Broward County public school system, and they created the fundraiser to provide relief and financial support to the victims and families of the shooting.
The UNF Interfraternity Council hosted the Dunks for Douglas fundraiser on March 2. For a fundraiser that was organized in 10 days, they were able to raise $1,400 with their 3 on 3 basketball tournament. However, that amount continues to grow with the sale of T-shirts.
The shirts say "UNF is Douglas Strong" in the front and has the school logo along with the names of the 17 victims on the back. T-shirts are priced at $13 each, and a portion will be going towards the final donation amount.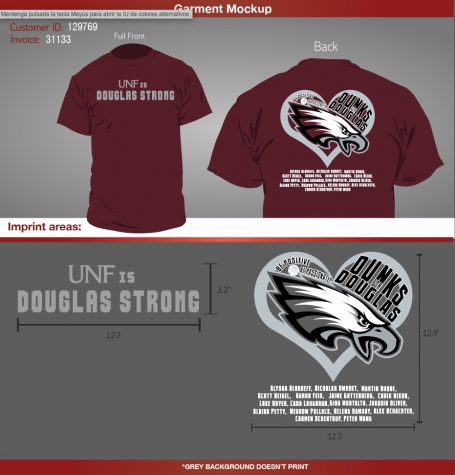 "I was happy to see us do so much in such a short amount of time," President of the UNF Interfraternity Council Mark Favia said. "I just wanted to make awareness about the circumstances on what happened. Make a difference, and be able to help even if we weren't alumni."
You can buy a T-shirt by bringing cash to the Office of Fraternity and Sorority Life or sending a Venmo payment to @UNFIFC.
—
For more information or news tips, or if you see an error in this story or have any compliments or concerns, contact [email protected].