Finding peace through art therapy
Art takes many forms and can be used as a channel for creativity or expression. However, there is a therapeutic side to it as well. Many people find creating art to be relaxing and a way to forget about the stress of life.
Dina Ricco, a licensed mental health counselor with a Ph.D. and registration in art therapy, is taking her passion for art and using it to help others.
Ricco began working at UNF in fall 2015. She saw the opportunity to create a place where students can get creative and take a break from the hustle of everyday life. During spring 2017, Ricco started open art therapy sessions.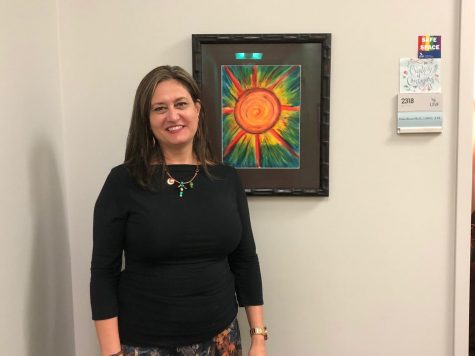 "When it started, we met every other week," said Ricco. "Then, as it became more popular, we began meeting every week." Now, this spring, students and faculty have a chance to come together, make art, and destress twice a week.
According to Ricco, it is a completely non-judgmental environment and anyone is welcome. Additionally, no prior experience in art is necessary.
"It's not about the product. It's about the process," said Ricco.
Students and faculty can create masks, sculpt clay, paint, draw, craft and more.
For American Sign Language major Olivia Hodgson, art is a hobby. "[The art therapy] helps me improve my painting skills, and it's really relaxing," she said.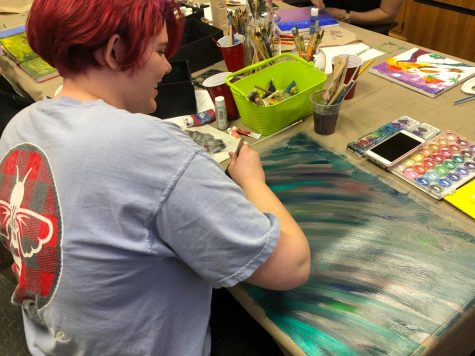 Psychology major Jessica Reichert said it was not her first time attending the therapy session.
"I come here most Tuesdays and Wednesday," said Reichert. "I usually just come to relax and do things that don't require me to think a lot."
Ricco believes it is helpful in addressing mental health. A piece of paper is handed out in the beginning so those taking part in the art therapy can rate their stress level before and after.
International business major Maria Pena went for her first time on Wednesday. She said she was no longer stressed and would recommend other people get involved as well.
"Don't think about it. Just do it," said Pena.
If you would like to relax and create some art, stop by building 2 room 2011 on Tuesdays and Wednesdays at 1:30 p.m.
There are also closed group meetings on Mondays and Thursdays where art and counseling are combined. For these meetings, the identity of those attending is confidential.
—
For more information or news tips, or if you see an error in this story or have any compliments or concerns, contact [email protected].