'Solo' flies just a bit too casually
"Uh, everything's under control…situation normal. We had a slight director malfunction but everything's perfectly alright now. We're fine. We're all fine here…now…thank you."
–Probably Lucasfilm during production
Yeah, it's been a long and anxious ride to Solo, the latest anthology film in the Disney-era of Star Wars. After co-directors Phil Lord and Christopher Miller exited the project during production, Ron Howard swooped in to save the day, earning the film's sole directing credit. With a shakeup of that magnitude, the odds weren't looking good for Han Solo's origin story.
However, fans can exhale knowing Howard successfully avoided a crash landing, even if this spinoff doesn't exactly soar to spectacular heights either.
Solo gets off to a difficult start, zooming through Han's (Alden Ehrenreich) early years growing up on the planet Corellia with his partner in crime Qi'ra, played by a feisty Emilia Clarke. Howard films Corellia's criminal underworld in deep blues that serve more to distort and blur the view rather than create any meaningful stylistic effect.
Years later, Han meets everyone's favorite hairy co-pilot Chewbacca (Joonas Suotamo), and the two get involved with shady duo Tobias Beckett (Woody Harrelson) and Val (Thandie Newton). While trying to find his place in the galaxy, Han's close encounter with a ruthless crime boss (Paul Bettany) will determine whether he can make it as a smuggler or not.
Solo is still trying to find its footing at this point but kicks into gear once Lando comes into frame and Donald Glover has a chance to add his perfectly adopted Billy Dee Williams charm into the mix. At this point, you think Glover has stolen every last bit of Ehrenreich's thunder. That is, until Phoebe Waller-Bridge rips the film away from both of them with her uproariously funny and strong-willed droid L3-37. At one point, L3 sparks (quite literally) a droid revolution, which is something I didn't know the Star Wars universe needed until now.
Ehrenreich does a solid job with young Solo's portrayal, yet he's continually outshined by supporting characters who prove more compelling and interesting than he is. If it's not Qi'ra, it's L3. If it's not L3, it's the chillingly mysterious marauder Enfys Nest (to keep from spoiling anything, we're withholding the actor's name from this review). In a movie about sketchy dealings and outlaws, the most criminal thing about it is the short amount of screen time given to this treacherous bandit.
While the action sequences are striking and the film moves quickly through its various developments, there's still a strange feeling of emptiness left at the end. Nothing essential is added to Han Solo as a character. There's no extra weight given to his actions. His origin story can be a fun jolt of energy at times, but little else is accomplished beyond that. The dialogue is fittingly snappy in parts but occasionally lacks the necessary zip to have its intended delivery.
[embedyt] https://www.youtube.com/watch?v=jPEYpryMp2s[/embedyt]
It's just enough to get by in the Star Wars world, which holds a high standard as it heads into a year-and-a-half break before Episode IX comes out in December 2019. In the meantime, I'll just be here praying in vain for Enfys Nest: A Star Wars Story.
Sails: 3/5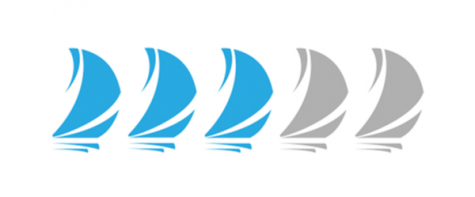 —
For more information or news tips, or if you see an error in this story or have any compliments or concerns, contact [email protected].