Eden Meyer finishes collegiate career at NCAA Championship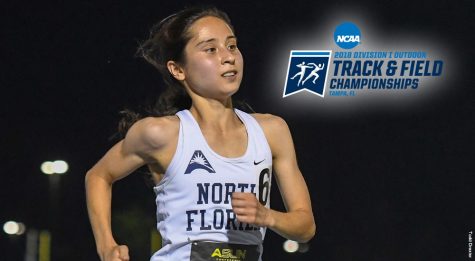 Senior Eden Meyer has crossed the finish line for UNF for the last time at the 10,000-meter finals of the NCAA Championship. Meyer placed twentieth with a time of 35:03 in her final race. Meyer also collected the field's fastest 400-meter split for the race's fifth lap (1600-meter to 2000-meter), running a time of 1:16.67.
Meyer sat down with Spinnaker in order to look back on her four years at UNF, reflecting on her journey from running with her family to competing in the National Championships.
"I'm the youngest of five, and three of my siblings ran," Meyer told Spinnaker. "My middle brother would take me on runs and I enjoyed it."
After being homeschooled until ninth grade, Eden Meyer started running competitively during her sophomore year at Providence High School in Jacksonville, Florida. When deciding on which college to enroll at, Meyer wasn't looking to go far from home.
"I never thought about running in college. I competed in a high school meet at UNF and the assistant coach was interested in me running for the Ospreys," she explained. "I chose UNF because it was close to home, my older two siblings went to UNF, and it was an amazing setup."
Meyer also noted the memorable experience of running with her twin sister, Grace, during her collegiate career.
"Grace is my best friend, and having her there every step of the way means the world to me," Meyer said.
Along the way, balancing school and running proved to be a tough task, but having the coaches in her corner helped her to manage both more effectively.
"Balancing school and running was tough because classes got more difficult. I would get stressed out, but the coaches were helpful," Meyer recalled. "They would adjust my training schedule to make sure I got enough rest. It was challenging, but the help from my coaches and family got me through it."
After finishing twentieth at the NCAA Championship, Meyer still enjoyed the atmosphere and history of the stadium.
"Running on that track with the 23 fastest girls in the 10,000 meters race and the history behind the stadium is pretty cool. I'm thankful for the two chances to run there," she said.
Throughout the four years of her collegiate career, Meyer has won the second team All-American honor, ASUN Student-Athlete of the Year and 14 ASUN gold medals. She also holds the school records in the Indoor 5,000 meters, Outdoor 5,000 meters and Outdoor 10,000 meters.
"I hope that people can see that any awards that I got reflect how grateful I am of my coaches and family," Meyer affirmed.
Meyer graduated with a degree in Biology and wants to continue to pursue running for the time being. Later on, however, she plans to work in the medical field.
—
For more information or news tips, or if you see an error in this story or have any compliments or concerns, contact [email protected].