Opinion: Juneteenth Should be Valued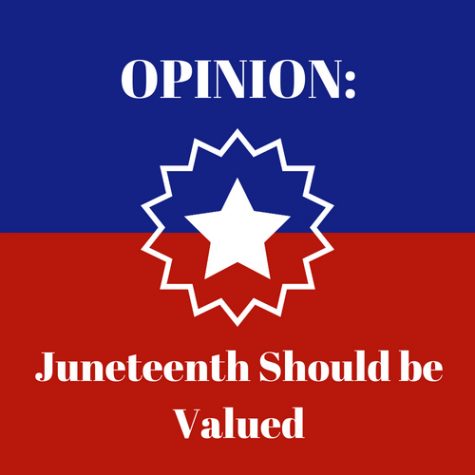 Every American citizen- and even foreigners – know about the Fourth of July, also commonly known as Independence Day. However, many have perhaps never heard of Juneteenth, also referred to as Freedom Day. It's time to learn what Juneteenth is about and understand why it should be a celebrated holiday throughout the United States.
Why is this particular date so important? The history of Juneteenth can be traced back to the signing of the Compensated Emancipation Act on April 16th, 1862 by president Abraham Lincoln. Though April 16, or Emancipation Day, is notably celebrated in Washington D.C., there are other similar emancipatory dates observed in other places: May 20 in Florida, March 22 in Puerto Rico, June 19 in Texas and more.
As one may notice, the word "Juneteenth" is a mixture of "June" and "Nineteenth."
After the Emancipation Proclamation on Jan. 1, 1863, many southern states resisted or delayed the news that all enslaved people were free. The slave owners, who were tasked with delivering the news, did not do so for two years. In the case of Texas, which was the last state to circulate the news, it took precisely 901 days. Finally, on June 19, 1865, the proclamation arrived through Union Major Gen. Gordon Granger at Galveston, Texas. Therefore, June 19 is the last day slavery was practiced in the entire United States of America.
In short, it is Freedom Day or Independence Day for the African-American community, and it is also one of the several Emancipation Days.
How can one celebrate such a special and significant holiday? Let's be clear: all Americans should celebrate any Emancipation Day with regard to their respective state. These days are holidays to celebrate the freedom of fellow citizens and fellow human beings.
Specifically, prior, during or after Juneteenth, one could visit important sites such as the Cumberland Island National Seashore in Georgia, or maybe take a trip to Washington D.C. to visit the Smithsonian National Museum of African-American History and Culture.
Additionally, if there are celebrations, participate. There's a variety of things to do, such as go to a public cookout, watch parades, go to the involved churches, partake in public discussions about several topics dedicated to the celebration and so on. Ideas will be shared, concerns will be voiced and celebration will ensue. It is a great start, or hopefully an amazing continuity, of learning about the African-American community.
On a grander scale, we should provide support to the incredible Opal Lee, a fierce advocate for the nationalization of Juneteenth as a national holiday. Opal Lee, soon to be 92 years old, started her quest in making Juneteenth a holiday during the Obama administration. She is continuing her journey and needs the community's help to send the same message to current President Donald Trump. To help Miss Opal, visit her website. For more help and information about Juneteenth, visit the National Juneteenth Observance Foundation website.
Lastly, Happy Juneteenth to all of you!
—
For more information or news tips, or if you see an error in this story or have any compliments or concerns, contact [email protected]