Students honor Hayden Raulerson with candlelight vigil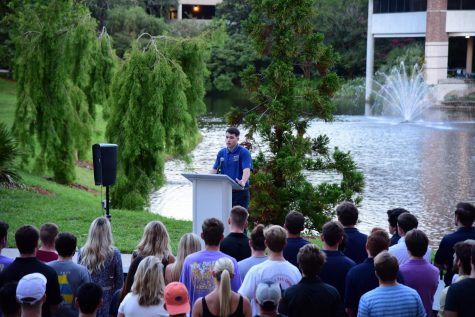 A random snow cone machine purchased on an early-morning whim. A basketball hoop placed in the front yard as a surprise for his roommate. Heartwarming gifts strategically left out for his friends on their bad days.
On Monday, June 18, these were the sort of uplifting memories the brothers of Alpha Tau Omega preferred to share with the crowd at a vigil held for recently-passed UNF student and ATO brother, Hayden Raulerson.
In a sea of solemn faces, what truly gave away the weight of grief present in the crowd were the two figures standing together by the corner of the stage, visibly restraining their sorrow and taking turns to wrap an arm around the other's shoulder in a show of solidarity.
Andrew Sharpley and Kaine Lynch, Raulerson's roommate and "big" fraternity brother respectively, both addressed the crowd following the car accident that took a total of four lives on Saturday, June 9, including Raulerson's.
"I would like to welcome everyone here who came out to support Hayden, but also Cameron Bell, Isabella Garcia and Alysia Littlejohn," Lynch began. "You would think that, with time, it would take away the pain of losing Hayden. But, so far, it has only made it worse… Even though we lost Hayden at such a young age, we all know how great of a man he was. People will describe Hayden as many things, the most common being kind, funny, resourceful and hardworking. But most important, he was the embodiment of a true brother and friend."
Sharpley shared similar sentiments, noting the warmth Raulerson emitted and the joy he would want his loved ones to continue experiencing, despite their mourning.
"I know Hayden is looking over us with a big smile on his face… I couldn't be any more thankful to be his roommate, his friend and his brother," Sharpley asserted. "That kid was the most selfless kid you've ever met. No matter what happened, no matter what we were going through or he was going through, you never saw him complain. There was always just a smile on his face, and that kid's laugh was the most contagious laugh you have ever heard."
Seth Pearson, President of Alpha Tau Omega, also shared memories of Raulerson that evoked laughter from the attendees and further conveyed just how selfless and caring he had been.
Finally, the crowd listened as the ATO brothers recited the ritual words to a remembrance ceremony for a brother who has passed, and then all bowed their heads as Nathan Cosgray, another fraternity brother, closed the vigil with a prayer.
As the sun set and the Student Union was lit both by candles and the faces of those who loved him, one could only walk away with the impression that Raulerson truly was a source of joy for those whose lives he entered.
"Knowing Hayden right now- yes we're sad, yes we're mourning- but he'd want us to celebrate. Celebrate his life, celebrate the time we had with him and cherish every moment that we did," Sharpley affirmed. "That's my brother. And I'm going to miss him every day."
Alpha Tau Omega is also hosting a fundraiser to help the Raulerson family, which can be found here.
—
For more information or news tips, or if you see an error in this story or have any compliments or concerns, contact [email protected].