Special Osprey Update from President Szymanski
21 days into President David Szymanski's run at UNF, he has stated that he has felt energized by an outpouring of support by faculty, staff, students, alums and donors. In the Friday, June 22 Osprey Update, Syzmanski prefaces his main message with only positive things about UNF and its community.
However, Szymanksi's main part of the update is to share that UNF will not be moving up on the Florida Board of Governors' 10 performance-based metrics. He stated he does not anticipate being above the bottom three universities.
"Although everyone worked to excel on these measures, several factors, including changes in State Legislature-mandated criteria, Florida Board of Governors' scoring formulae, one data-entry error in Tallahassee, and importantly, our inability to sufficiently improve final performance on several of the measures have led to a readjustment in expectations as to our anticipated ranking," Szymanski said.
Szymanski also makes it clear that, although this is disappointing, he is proud of the many programs and initiatives UNF has in place to attract and retain students, as well as to help them in their future careers.
According to Szymanski, the state's 10 metrics are important to UNF because they focus on accountability and UNF's main goal to provide a phenomenal educational experience for our students at a great value.
"As the new President of the University of North Florida, I take this goal seriously and will work with administrators, faculty, students and the entire staff across campus to bring further excellence to our programs that will be demonstrated in our overall total score," Szymanski said. "As we create and follow new paths to excellence, I am strongly committed to enhancing the educational opportunities we offer our students."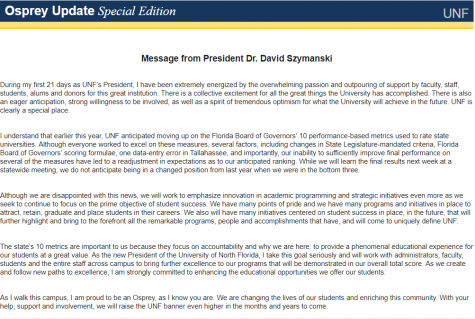 —
For more information or news tips, or if you see an error in this story or have any compliments or concerns, contact [email protected].