How to avoid bad luck on Friday the 13th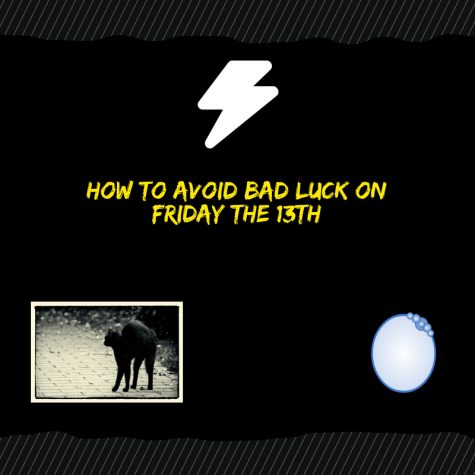 The famous singer Alanis Morissette once said: "it's like ten thousand spoons when all you need is a knife, isn't it ironic?" She may have a point, but nothing is ironic about being plagued by such bad luck. That's why we're here today—to protect people like Alanis from bad luck by giving five tips on how to avoid bad luck on Friday the 13th.
To start, if you want to avoid bad luck, then you need to avoid listening to music while you're in your car and listen to podcasts instead. When listening to music in the car, you run the risk of hearing a band like Nickelback, which could lead to breaking your rear view mirror with their horrific lyrics and terrible vocals… and we all know what happens when you break a mirror. Podcasts, on the other hand, stimulate the brain and help you learn something new every day instead of "looking at a photograph."
The second tip is, if you're going to a fast food restaurant, always eat inside. Oftentimes, the workers forget to give you a straw or sauce you wanted. By eating in the restaurant, you get all that you asked for and you get to experience the elegant ambiance, like the ketchup stains on the tables or the sticky floors by the soda fountain. Lucky be a lady.
The third tip to avoid bad luck is to surround yourself with dogs, as a popular symbol of bad luck is having a black cat cross your path. That's why, when people tell me they prefer cats over dogs, I'm left thinking that they're willing to end up with bad luck at any time. Dogs are the preferred pet of choice because they're loyal and their eyes don't peer into your soul. For this reason, spending the day with dogs on Friday 13th will help you shed bad luck like a chocolate lab sheds its fur.
The fourth tip to avoid bad luck is to respond to as many chain letters as you can. Have you ever received those insightful chain letters urging you to pass along the chain or you will be cursed? Be sure to keep reposting those, because they are absolutely one hundred percent accurate and have great power within the message. If you don't repost the chain messages, you risk receiving bad luck, all because you didn't tag 10 people on Facebook.
One final tip is to avoid listening to Rebecca Black's "Friday." You may think it'd be funny to play throughout the day when you pass the aux cord to your friends, but the song can cause bad vibes. By playing that cringe-worthy song, you are in danger of suffering an autotune disorder where all you listen to is autotune. That being said, you should also avoid listening to artists like T-Pain and Lady Gaga.
Follow these tips and you will surely enjoy a fun, safe and lucky Friday the 13th.
—
For more information or news tips, or if you see an error in this story or have any compliments or concerns, contact [email protected].