Wes Weeks wins Florida League All-Star Game MVP
After breaking the third metacarpal in his left hand last season, Ospreys outfielder Wes Weeks was determined to get back into baseball shape come summer.
"I wanted to get to where I was and I did a lot of rehab. I was out for 13 weeks and did leg workouts and band exercises," Weeks said.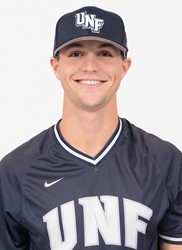 This summer, Weeks has been playing for the Leesburg Lightning of the Florida League. UNF infielder, Jay Prather, is also on the Lightning roster. The Florida League is a six-team wooden bat league played during the summer. Weeks was selected on the West team at the Florida League All-Star Game. The West team won by a 4-2 victory and Weeks was crowned All-Star Game MVP after going recording two hits in two at-bats, with a double and a run scored.
"Winning the All-Star Game MVP means everything to me. Coming off an injury, it's a lot more than I expected. I'm excited and happy about it," Weeks said.
The summer league is optional for college baseball players, but it allows them to hone their craft.
"[Playing in the summer league] gives you exposure," Weeks explained. "You get to play with different kids and you apply it to your own game. Baseball is a repetition sport: the more you play, the better you will be."
When Spinnaker asked Weeks about what he is working on the most this summer, hitting was the keyword.
"I'm working on getting my swing back. I'm focusing on hitting gap to gap, and I'm also working on getting in baseball shape again," Weeks told Spinnaker.
The Leesburg Lightning are currently at the top of the standings, owning a 23-7 record. Their next game is on Wednesday, July 18 against the DeLand Suns.
—
For more information or news tips, or if you see an error in this story or have any compliments or concerns, contact [email protected]