OPINION: Papa Gone; Papa John's removal is more than just combating bigotry, it's business
UNF President David Szymanski surprised many on Aug. 1 when he declared in a message to students that the campus Papa John's would be closing its doors due to the racist comments of its now ousted founder, John Schnatter. Schnatter, who has been the public face of the company, has repeatedly entered the media spotlight in recent years to criticize Obamacare, claiming he'd raise pizza prices and slash pay for employees, and to blame kneeling NFL players for hurting shareholders with their protest; a comment that got him removed from his position as CEO.
The last straw for Schnatter, however, were his racist comments made during, no joke, a conference call with a PR firm attempting to help the company avoid more public relations disasters. Schnatter claims the PR firm encouraged the racist comments, stating, "They pushed me," which is hard to believe considering this is the same man who lost his position as CEO by commenting on the NFL protests unprompted. Now as Papa John's purges their founder's image from the company, Schnatter is poised to take legal action against his own business.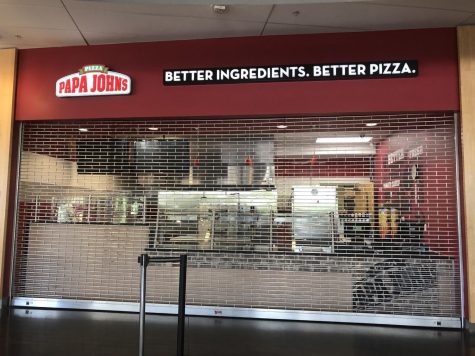 This all serves as a preface to President Szymanski's decision to remove Papa John's from campus over Schnatter's comments; a decision that serves both as a statement of policy on social issues, as well as serves the university's business interests. Szymanski's decision is clever considering the events that transpired on campus last fall concerning the racist snapchat video and the No Nazis at UNF rally, events that left many students feeling disappointed with former UNF President John Delaney's response. By removing Papa John's, Szymanski has quickly established that during his tenure, UNF will have zero tolerance for racism and bigotry; a strong opening gambit toward a campus still cooling off. This all seems well and good, but you shouldn't do away with your skepticism just yet.
It is no secret that the campus Papa John's wasn't exactly the hottest spot to grab a meal. Many students complained about the early closing hours, which are antithetical to how a pizza place should operate, forcing students to get delivery, likely from a rival pizza joint, despite Papa John's being within walking distance. Other dining locations frequently have long lines compared to the ghost town that was Papa John's, and with Panda Express about to make its debut, there was little hope that business would get any better. Following Schnatter's racist comments, the company's stock cratered and has simply been outpaced in the pizza market by its rival Domino's. Szymanski's decision may seem purely like a peace gesture towards a campus that faced a firestorm of bigotry recently, but Szymanski, once a marketing professor, board member of Office Depot and several NCAA boards, knows better than anyone that Papa John's simply wasn't carrying its weight compared to other food joints.
Szymanski made the right call removing Papa John's from campus. Papa John's has consistently failed to keep its public image in check, and John Schnatter's comments are abhorrent, but it would be a disservice to oneself to think Szymanski's decision was purely for the social good. Szymanski's decision was not a difficult one. The decision that does the most social good aligned with the decision that makes the most financial sense. The real test will be when those interests do not align. President Szymanski is just getting started, and while he appears to be on the right track, don't turn a blind eye just yet.
—
For more information or news tips, or if you see an error in this story or have any compliments or concerns, contact [email protected].