A look at the Republican primary ballot
Voting as a Republican for the Primary Election? These are the candidates for those voting in the fourth district.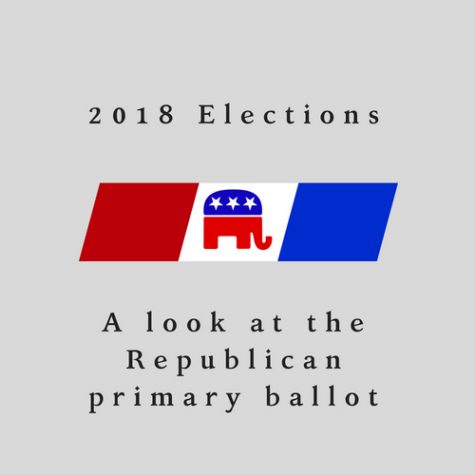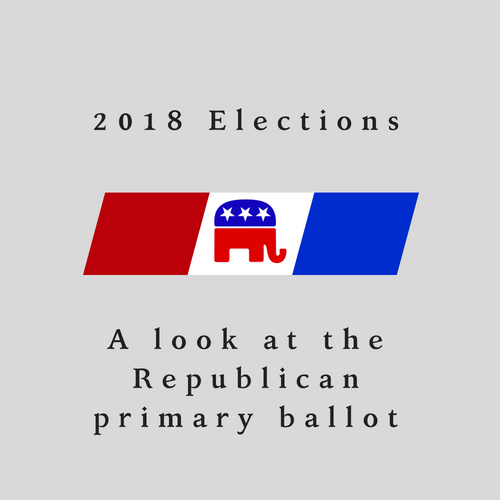 United States Senator (Republican)
Senators belong to the legislative branch of the government, which is the part of the government that makes laws. A senator's job is to represent the people living in their state. Part of this job is to write and vote on new laws called "bills." Senators serve terms of six years and their average salary is approximately $174,000.
Roque "Rocky" De La Fuente
De La Fuente is an American Businessman who was born in California and raised in Mexico. De La Fuente earned a B.S. degree in physics and mathematics from the Instituto Patria National Autonomous University of Mexico. He then studied accounting and business administration at Anahuac University and the University of San Diego.
According to Ballotpedia, he is seeking election to U.S. Senate from Delaware, Florida, Hawaii, Rhode Island, Vermont, Washington and Wyoming. He was seeking election in California as well but was defeated in the primaries on Aug. 5. The U.S. Constitution requires senators to be residents of their states at the time of election, and De La Fuente owns property in many states.
De La Fuente began delving into politics after spending time as a businessman. He served as an at-large delegate for California at the Democratic National Convention in 1992. In 2016, he ran a presidential campaign for the Democratic Party's nomination during the primaries. He then founded the Reform Party and ran as the party's nominee. After the primaries, he ran to be Florida's senator as a Democrat. All campaigns were unsuccessful.
Rick Scott
Scott is the current Governor of Florida. Scott was born in Illinois and grew up in Missouri. After high school, Scott spent one year in community college prior to joining the U.S. Navy. He served for two years before attending the University of Missouri-Kansas City. He then went to law school at Southern Methodist University.
The businessman was elected Governor of Florida in 2011 and has continued to hold the position. His platform has been about funding education, improving job figures and expanding Medicaid under the Affordable Care Act.
Governor and Lieutenant Governor
A governor is the state's highest-ranking elected official. State governors sign bills into law, serve as commander-in-chief of the state's National Guard and militia forces and deliver "state-to-state" addresses to citizens. Governors reportedly make $130,273 a year.
Don Baldauf
Baldauf is a political activist opposed to the levying of a federal income tax.
Ron DeSantis
DeSantis is a current Republican U.S. Representative for the sixth district of Florida and is a front-runner for governor as a Republican. The Jacksonville-native graduated from Harvard and Yale before he went into the U.S. Navy.
His platform stands on the fact that he is 100 percent pro-life and a strong defender of the Second Amendment. DeSantis is also endorsed by President Trump.
Timothy M. Devine
 Devine is from Kissimmee. Devine has no campaign website and has not spoken out about his candidacy. He previously ran for governor in 2014.
Bob Langford
Langford has no campaign website and has not spoken out about his candidacy.
John Joseph Mercadante
Mercadante was born in Massachusetts, went to trade school and made his way down to Miami to work.
Mercadante's platform focuses on protecting blue-collar workers from abuse, improving the tourist economy, resolving nursing home abuse and enhancing transportation in Florida.
Bruce Nathan
Nathan came to Florida in 2000 to work as a pediatric physical therapist. While working, he developed concerns about the state of healthcare at the time. He then went on to serve in the United States Army Reserves after 9/11. He served until February 2010.
Nathan's platform highlights Second Amendment Rights, pro-life viewpoints, better wages, health and healthcare advocacy and environmental conscience. Previously, Nathan ran for Florida's U.S. Senate seat in 2016.
Adam Putnam
Putnam is currently the Florida Commissioner of Agriculture and Consumer Services and was elected in 2010. Putnam is a Florida native and was first elected to the U.S. House of Representatives in 2001 when he was 22. He served that position until 2011.
Putnam studied at the University of Florida and received a B.A. in food and resource economics. His platform highlights economic prosperity, eliminating government corruption, expanding energy production, protecting the right to bear arms and motivating communities to be healthy and safe.
Bob White
White is a Polk County native. White spent much of his youth and young adulthood working in the citrus industry.
White was the chairman of the Republican Liberty Caucus of Florida and the Republican Liberty Caucus of Central East Florida. Some of White's platform points are pro-life regulation, healthcare, criminal justice reform, having tighter immigration laws and caring for the environment.
Attorney General
The state attorney general is a state's chief law enforcement officer. Attorneys general make sure state laws are properly interpreted and enforced. The state attorney general reportedly makes $128,972 yearly.
Ashley Moody
Moody is a graduate of Stetson University, where she earned a law degree, as well as the University of Florida, where she studied accounting and earned her Juris Doctorate.
Moody was a judge for the Thirteenth Judicial Circuit Court of Florida before resigning to run for the Florida Attorney General. Prior to being a judge for the Thirteenth Circuit, Moody served as an assistant U.S. attorney for the Middle District of Florida. Her experience also includes work as an associate for a law firm, an assistant to the president of the American Bar Association and an adjunct professor for Stetson University College of Law.
Frank White
White is a current member of the Florida House of Representatives. White is from Texas and graduated from the Southern Methodist University School of Law.
Commissioner of Agriculture
The Commissioner of Agriculture oversees the Florida Department of Agriculture and Consumer Services as a member of Florida's Cabinet. The Commissioner of Agriculture earns a salary of approximately $128,972.
Matt Caldwell
Caldwell is a Republican member of the Florida House of Representatives and was first elected in 2010. Caldwell has served in the East County Water Control District and as a member of the South Florida Water Management District's Lake Okeechobee Subcommittee.
Caldwell graduated from Florida Gulf Coast University with a B.A. in history. Caldwell's platform highlights job growth, preserving Second Amendment Rights, supporting pro-life ideals, ensuring farmers' success, preserving water and the environment, and withdrawing from NAFTA.
Denise Grimsley
Denise Grimsley is a Republican member of the Florida State Senate. Grimsley previously served in the Florida House of Representatives from 2004 to 2012. Grimsley's professional experience includes working as a citrus grower, registered nurse and Vice President/Chief Executive Officer of an oil company.
She attended Polk Community College where she earned her Associate of Science in Nursing prior to enrolling at Warner Southern College, where she received a degree in organizational management. She then finished off her education at the University of Miami with a degree in management of business administration. Today, Denise serves as a hospital administrator, where she focuses on patient care, customer satisfaction and fiscal responsibility. Grimsley still works her family's citrus and cattle operations.
Mike McCalister
Previously, McCalister unsuccessfully sought election for U.S. Senate from Florida in 2012. He received a B.S. in agriculture from the Union Institute of Cincinnati.
McCalister's platform highlights immigration reform, food security, food safety, pest plant disease management, scam control, recreation and leisure, animal health and welfare, and protection of the environment.
Baxter Troutman
Troutman is from Winter Haven, Florida. He was a citrus grower and businessman before he was elected into the Florida House in 2002 as a representative. Troutman was elected for four terms until 2010. He attended South Florida Community College and Florida Southern College where he earned a Bachelor of Science.
His platform highlights protecting Second Amendment rights, improving water quality, preserving land availability, citrus greening, leaving NAFTA and right to life.
State Senator District Four
Florida senators work in the upper house of the Legislature in Florida. State senators create and amend the laws of the state of Florida. District Four represents the people in Nassau and Duval County. State senators in Florida make about $29,697 per year and $152 dollars each day they work in Tallahassee.
Aaron Bean
Bean is a Republican member of the Florida State Senate and is running for re-election. Bean was first elected to the Florida Senate in 2012. He was subsequently re-elected without opposition in 2014 and 2016 and is currently serving as Chair of the Communications and Utilities Committee and Chairman of the Duval County Legislative Delegation.
Bean is a Northeast Florida native and graduated from Jacksonville University. His platform highlights creating jobs, improving education, better health care, economic growth, improving the efficiency and effectiveness of the state government, and cutting taxes.
Carlos E. Slay
Slay is a small business owner. His platform stands on protecting gun rights, beach rights, education, mental health reform, affordable care for seniors and public corruption law.
Clay went to trade school for paramedic training and building construction. He previously sought office for sheriff and tax collector. 
—
For more information or news tips, or if you see an error in this story or have any compliments or concerns, contact [email protected].