Ballot choices for nonpartisan voters
Florida is a closed primary state, meaning voters can only vote in the primary election of the party that they're registered with. Voters who are unregistered or unaffiliated receive nonpartisan ballots. Here are the choices unregistered UNF voters will have at the polls on Aug. 28.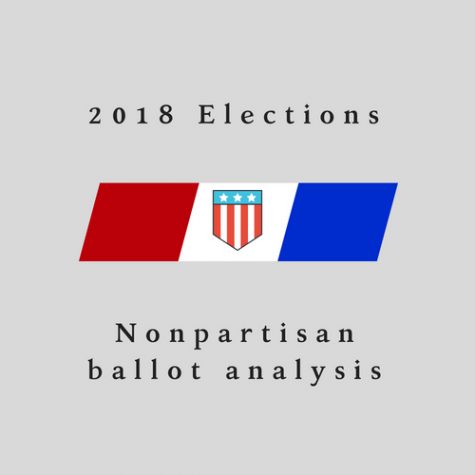 Tax Collector
Former Duval County Tax Collector Michael Corrigan resigned from his position June 1, 2018 to become the CEO of Visit Jacksonville. The resignation set the stage for a special election to fill his empty seat until Corrigan's term expires in June 2019. The winner of the special election will need to run again in 2019 if they want to keep their position as tax collector.
Doyle Carter (R)
Doyle Carter is a fifth-generation Westside Jacksonville native who is running as a Republican to become the Duval County Tax Collector. He served on the Jacksonville City Council from 1999 to 2003, was re-elected in 2011 and is still serving the council. He submitted his resignation letter on June 7, where he stated that he will vacate his seat on the council either the day he can take office as Duval County Tax Collector or the date his replacement is required to take his seat on the City Council.
According to his Facebook page, Carter believes in "common sense government by having less government." As a city councilman, he voted to lower millage rates to lower taxes.
The Ed White graduate promises outstanding customer service at Tax Collector's Offices, improved infrastructure to Jacksonville's Westside, and to create jobs for people of District 12. Carter has been endorsed by a smattering of local politicians including Sheriff Mike Williams, Duval County Clerk of Courts Ronnie Fussell and Jacksonville City Councilmen Bill Gulliford, Aaron Bowman and Scott Wilson.
Mia L. Jones (D)
Mia L. Jones is also a Jacksonville native. Jones, the lone Democrat in the Tax Collector's race, earned both a B.S. in accounting and MBA from Florida A&M University. She served on the Jacksonville City Council from 2003 to 2008 and as the Florida House Representative of District 14 from 2008 to 2016.
On her campaign website, Jones emphasizes partnering the Tax Collector's Office with local nonprofits to provide new services to Duval residents. She wants to extend weekday and Saturday hours and offer voter registration and assistance for signing up for health care. Jones also wants to modernize the Office by creating a proposed mobile app that would allow residents to take care of business with the Tax Collector's Office remotely.
Jim Overton (R)
Republican Jim Overton served as a Jacksonville City Councilman from 1992 through 2003 and then was elected to run the Duval County Property Appraiser's Office where he remained from 2003 to 2015. Overton received a Bachelor of Science from Washington and Lee University and a master of public administration from the University of North Florida.
Overton touts his experience in the Property Appraiser's office as a major selling point for his election. He aims to use new technology to help improve efficiency and transparency in the Office. According to his campaign website, "[Overton's] number one commitment as Tax Collector will be to provide fast and courteous service."
Lake Ray (R)
Lake Ray served four terms as a Republican in Florida's House of Representatives from 2008 to 2014. In 2016, he ran as a Republican candidate to represent Florida's District Four the U.S. House of Representatives but lost to John Rutherford. Ray, a civil engineer, received a Bachelor of Science degree from the University of Florida.
Ray's campaign platform is based on curtailing government waste and maintaining a balanced budget.
In an open letter penned on the front page of his website, Ray said, "As an engineer and business owner, I have managed budgets in excess of 700 million dollars." He is an advocate of tax relief for veterans and first responders and for cutting local and statewide taxes.
Circuit Judge Fourth Judicial District
Maureen T. Horkan
Lawyer Maureen T. Horkan is running to be the Circuit Judge of the Fourth Judicial District. Horkan graduated from Smith College with a Bachelor of Arts degree, then went on to the Florida State University College of Law where she earned her Juris Doctor degree with Honors.
She runs a private practice as a family law attorney. In the past, she has worked as assistant attorney general and Director of the Child Predator Cyber-Crime Unit in the Fourth Judicial District. Horkan has also worked as the assistant statewide prosecutor where, according to her Florida Bar Judicial Candidate Voluntary Self-Disclosure Statement, she specialized in "high technology crimes and complex litigation of multi-defendant criminal conspiracies."
Charles McBurney
Charles McBurney is a Republican former State Representative of District 16. He was first elected in 2007 and was re-elected consecutively through 2014, when he was term-limited from running again. McBurney received his bachelor's from the University of Florida and his Juris Doctor from University of Florida Law School.
McBurney worked as an assistant state attorney for six years and as a private attorney starting in 1990. He opened his own practice in 2004, according to his campaign website.
Aside from his terms as a State Representative, Mcburney has also served as Chairman of the Judiciary Committee.
County Judge Group Three
Michael Bateh
Michael Bateh is an attorney that practices criminal law. He graduated from UNF with a bachelor's in business administration and earned his Juris Doctor from the Florida Coastal School of Law.
Bateh is currently employed by the Office of the Public Defender, Charlie Cofer, Fourth Judicial Circuit as the Division Chief of the Homicide Unit. He's worked for the Public Defender's office for 15 years.
Bateh's campaign website boasts endorsements from prominent local figures like Sheriff Mike Williams and former UNF President John Delaney. It says that Bateh is "tough, but fair." The website also insists that Bateh will adhere to the Constitution, a point that is backed up by his membership to the Federalist Society.
Gerald L. Wilkerson
Gerald Wilkerson is a former Army Missile Crewman who earned his bachelor's degree with Honors from Florida International University after being honorably discharged in 1989. He went on to earn his Juris Doctor with Honors from University of Florida Levin College of Law.
Wilkerson worked for the Fourth Judicial Circuit Public Defender's Office for two years. He later worked for a private practice for three years before opening his own law office, where he's worked for the last 13 years.
Wilkerson is experienced in many different types of law including family, juvenile, criminal, personal injury and worker's compensation law. In his Voluntary Self-Disclosure Statement provided to the Florida Bar Association, Wilkerson said that he endured a bitter custody battle as a child and he takes his personal experience into account when practicing family law.
County Judge Group Eight
La'Rae H. Hendrix
According to her campaign website, La'Rae Hendrix has been a Jacksonville resident for almost 30 years. Hendrix has worked as a prosecutor for the State Attorney's office and as an attorney ad litem representing children in family law and dependency cases. She's also worked in the private sector and founded her own law firm in 2004.
Hendrix graduated from Jacksonville University before earning her Juris Doctor at Florida Coastal School of Law.
Kimberly Sadler
Kimberly Sadler is a former Peabody-award winning journalist who worked at WTLV-12 First Coast News while earning her degree at Florida Coastal School of Law. Sadler worked as a public defender for over a decade before venturing into private law and opening her own practice.
Sadler was voted "Top 10 Female Attorneys" by The American Institute of Criminal Law Attorneys.
Her website lists endorsements from the Jacksonville Fire Fighters, The Fraternal Order of Police, and Sheriffs Mike Williams and Darry Daniels of Duval and Clay Counties, respectively, among other endorsements.
Her campaign platform is based on her literal interpretation of the Constitution and commitment "not to legislate from the bench."
—
For more information or news tips, or if you see an error in this story or have any compliments or concerns, contact [email protected].