Szymanski sends osprey update regarding everyone's "responsibility" to report sexual assault
UNF President David Szymanski sent out to a Special Osprey Update on the topic of ensuring student well-being. The content of the message primarily relates to UNF employees now being mandatory reporters of sexual assault. According to Szymanski, it is now everyone's responsibility to take action if they have reasonable knowledge that sexual harassment and/or violence is occurring.
"We're working on formalized, mandatory training for all employees with the ultimate goal of ensuring a safe campus for everyone," the update said. "We need to guarantee that no one on this campus turns a blind eye to sexual assault. Your vice president will be getting with you to discuss options for the mandatory training, including online and in-person sessions. "
Szymanski points out that in the past, UNF has only required faculty, athletics staff, higher-level administrators and those who work directly with students to report sexual assaults.
"This is just another effort to provide a healthy and safe campus by sharing the responsibility of reporting crimes and ensuring that victims get the help they need."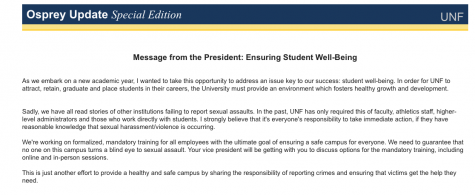 —
For more information or news tips, or if you see an error in this story or have any compliments or concerns, contact [email protected]