Resigned-dean was reportedly caught in sexual encounter with a man he met on "Adam4Adam"
The former dean of the College of College of Computing, Engineering and Construction was engaged in sexual activity with another man just outside of the stairwell adjacent to the press box entrance of the Stadium, according to UNFPD.
A UNFPD officer was dispatched to Hodges Stadium on Tuesday, Oct. 2 in response to a report of suspicious activity, the report states.
According to the police report, Mark Tumeo and the other man admitted to engaging in oral sex and told the officer that they had met on "Adam4Adam," an online dating website for men. The meeting between the two was reportedly planned mutually via text.
When detailing their encounter to the officer, the man who met Tumeo had been on his knees as Tumeo himself stood with his back to Rm. 402. The man also told officials he noticed a figure peering into the press box and looking at them, at which point he ended his physical engagement with Tumeo and stood up.
According to the update, Tumeo's resignation follows what was reported as a "consensual sex act" that took place on campus.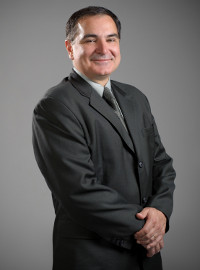 Tumeo initially told officials he had been there to talk to the other man about his bat business. The report states Tumeo also suggested the other man may have simply been bending down to tie his shoe, thereby putting him in a position that may appear "out of place." However, after officials told Tumeo the other man had admitted to the sexual encounter, Tumeo also admitted his intent behind the meeting was to engage in oral sex.
According to the official report, the man who met with Tumeo was issued a trespass warning and advised not to return without first notifying UNFPD. The man stated he understood the consequences and would not return, at which point he was escorted off campus without incident.
Following the incident, Tumeo himself contacted Interim Provost and Vice President of Academic Affairs Pamela Chally on Wednesday, Oct. 3 to notify her of his official resignation. Within minutes, his resignation was accepted.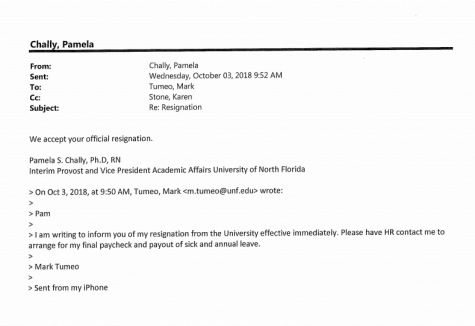 Tumeo's resignation is effective immediately according to the Osprey Update, and Associate Dean William "Chip" Klostermeyer is to resume Tumeo's responsibilities until the University has completed a search for a new dean.
The University also affirmed that "[the act] was unbecoming of a University official and doesn't comply with the standards expected of members of our University community."
—
For more information or news tips, or if you see an error in this story or have any compliments or concerns, contact [email protected].