First game, first fall; Men's Basketball loses in Season Opener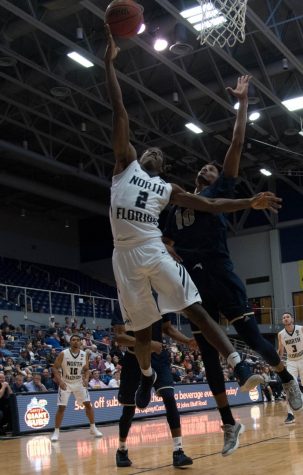 The Ospreys Men's Basketball team battled with Dayton in the first half of the matchup, but a tough perimeter defense hindered the Ospreys from winning their season opener. The Ospreys and Flyers were battling from the start of the game and UNF got their first lead of the game when Junior Noah Horchler hit a three to make the score 12-11, Ospreys.
Junior Garrett Sams led the team with nine points and connected on two three pointers. UNF continued their attack beyond the arc, resulting in a 40 percent three-point shooting percentage. Horchler showed a strong post presence, collecting nine rebounds as well as scoring eight points. After the first half, the Ospreys were trailing 41-35 to the Flyers.
Obi Toppin of the Flyers was a force to be reckoned with for the Flyers, adding 12 points and recording a shooting percentage of 66 percent.
After halftime, the Flyers kept their foot on the gas pedal and didn't allow the Ospreys to take the lead once in the second half.  Horchler added 10 more points in the second half, totaling 19 in the game. Dayton exposed the Ospreys defense and kept driving inside, especially with players like Toppin (8-13 FG) and Junior Trey Landers (6-11 FG). Although UNF closed an 18 point gap to eight, the Flyers came out on top, 78-70.
Worth Noting
Freshman Carter Hendricksen was the only freshman who saw action for the Ospreys, scoring three points and grabbing three rebounds.
North Florida recorded a better shooting percentage throughout the game than Dayton with 44 percent.
The Ospreys head to Happy Valley to take on the reigning NIT Champion, Penn State on Friday, Nov. 9 at 7:30 p.m.
—
For more information or news tips, or if you see an error in this story or have any compliments or concerns, contact [email protected]