Ospreys clinch sixth spot in ASUN Tournament after win over UNA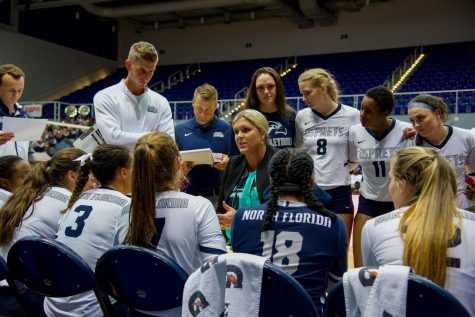 The Lions (4-21, 2-14 ASUN) put up a fight throughout the match, but UNF (10-21, 5-10 ASUN) weathered the storm and prevailed with a relentless attack and blocking in big time situations to punch their ticket to the ASUN Tournament.
The Lions and Ospreys continuously traded points throughout the first set. Redshirt-Sophomore Gabby O'Connell led the attack for the Ospreys with seven kills. Ultimately, the Lions grabbed the 25-23 win.
Coach Kristen Wright talked to the Spinnaker on the team's adjustments after the first set.
"We made way too many errors, I think we were swinging too perimeter of the court. We needed to throw in some offspeeds and our approach lines were a little bit off," Wright said. "They picked good spots on the block and forced us to do things we didn't want to do. I think you saw in the second set we adjusted pretty nicely."
The Lions continued roaring in the second set but the Ospreys kept answering. With Sophomore Devyn Wheeler and O'Connell battling with four kills a piece, the Ospreys prevailed with the 28-26 victory.
After winning the second set, the Ospreys continued the momentum in the third set by winning, 25-18.  The Ospreys defense held the Lions to a minimum as UNA recorded 0 hitting percentage.
"We've been working a lot on blocking, what doesn't go statable is all the touches where we slowed down the ball," Wright said. "We had a lot of positive touches from our swing block tonight, we just want to build off that tomorrow night and into the tournament."
The Ospreys won the fourth and final set, clinching the sixth and final spot for the ASUN Tournament. O'Connell recorded five kills in the final set.
"Gabby had a killer night, five kills a set and double-double. Mads (McCarty) ran a nice offense. Solimar came up big, she started out hitting negative and when we switched her to the right, she just took over on the right side. I'm really proud of the whole team, to step up with adversity and to pull it together is big time," Wright said.
The Ospreys play their last regular season match on Saturday, Nov. 10 at 6 p.m. at home against NJIT.
—
For more information or news tips, or if you see an error in this story or have any compliments or concerns, contact [email protected]