Remembering Stephen Hillenburg, creator of Spongebob Squarepants
Spongebob Squarepants creator Stephen Hillenburg tragically died last Monday due to complications from ALS. This news has come as a shock to millions of fans, including myself, who have grown up watching Spongebob and whose lives have been shaped by its memorable characters and timeless humor.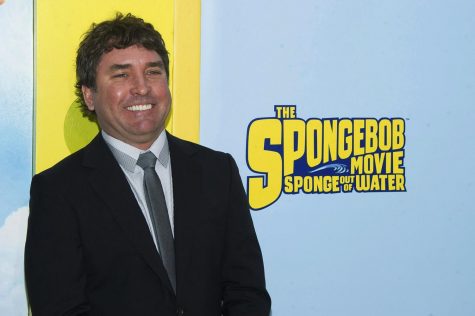 Hillenburg got his inspiration for the show when he worked as a marine biology teacher at the Orange County Marine Institute in Dana Point, California. While working there he created a comic series called the Intertidal Zone, which he used to teach his students. It featured undersea characters that would eventually evolve into the Spongebob Squarepants characters we all know and love today, including "Bob the Sponge". At one point in the Institute, Hillenburg started attending animation festivals where films made by students were shown. This inspired him to pursue a career in that field—not as a painter, but as an animator.
Hillenburg then enrolled at the Experimental Animation Program at CalArts where he studied under the founding director of the program, Jules Engel, whom he considered his mentor. Hillenburg went on to make animated shorts that were shown at multiple animation festivals. There he earned praise and a jump start to his animation career.
Hillenburg's success caught the attention of Rocko's Modern Life creator, Joe Murray, who got him his first professional job as director of Nickelodeon first in-house cartoon production. Working closely with Murray, Hillenburg learned a great deal about the industry and was promoted to creative director of the show.
During production of Rocko's Modern Life, Hillenburg was encouraged to create a television series of his own. He looked back to his days at the Marine Institute and created a small underwater town where all the main characters were anthropomorphic sea creatures going about their daily lives. Taking the character "Bob the Sponge" and renaming him Spongebob, Hillenburg pitched the concept to the execs at Nickelodeon who approved the idea and agreed to fund the show.
Spongebob Squarepants premiered on May 1, 1999, and became a gigantic hit by joyfully walking the line between childhood and adulthood.
Stephen Hillenburg will be sorely missed, as his work has shown families everywhere that it's okay to have a little nonsense—even as you're growing up. He offered both the silliness and innocence of being a kid while also showcasing the humor and wit at an adult level. His inspiration and imagination will live on and impact many generations to come. Thank you, Stephen Hillenburg, for adding so much to our lives.
__
For more information or news tips, or if you see an error in this story or have any compliments or concerns, contact [email protected].