Escobar's career-high night not enough in loss to FIU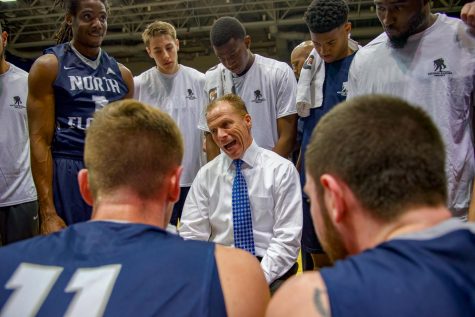 In game two of the Ospreys road trip, Redshirt-Junior J.T. Escobar led the Ospreys offense but minimal shooting from beyond the arc was a major factor in their loss.
Coming into the game against FIU, the Panthers (8-2) averaged more points, rebounds, and three pointers made per game than the Ospreys (4-7). The Panthers maintained the lead in the first 10 minutes of the first half and they zeroed in on limiting the Ospreys long-range shooting. Escobar nailed back-to-back threes to give the Ospreys their first lead of the game. After those shots, the game became fast paced with each team finding easy buckets in the paint. As the horn sounded for halftime, the Ospreys trailed, 49-50, to the Panthers. Escobar had an explosive half, recording 20 points and hitting all three of the Ospreys three pointers. The Ospreys shot 48 percent from the field and a measly 20 percent from beyond the arc.
The Ospreys started to find their stride in the second half, leading for the first nine minutes. Junior Garrett Sams showed major elevation with a dunk early in the second half and the offense was working in sync with solid ball movement. FIU began to dominate after the second media timeout of the half by connecting on key shots and improved their perimeter defense. The Ospreys hung tough with FIU and reached within four with less than four minutes left in the game. Ultimately, the Panthers came out on top with a 102-89 victory.
Escobar set a career high in points (28) and rebounds (6). Junior Noah Horchler recorded his fifth double-double with 16 points and 10 boards. Junior Wajid Aminu put up 15 points and Sams scored 11.
The Ospreys return to the UNF Arena to take on Charleston Southern on Saturday, Dec. 15 at 5 p.m.
—
For more information or news tips, or if you see an error in this story or have any compliments or concerns, contact [email protected]