Ospreys burnout in second half in loss to Wildcats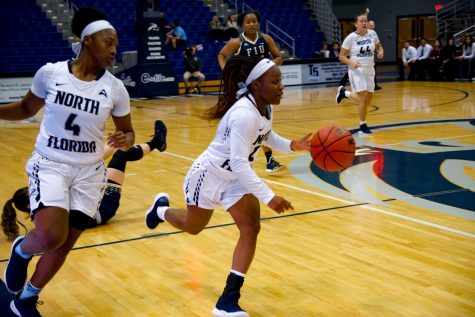 After a hot first half, the Ospreys lost control of the game with 12 turnovers and were outshot by the Bethune Cookman Wildcats in a 76-60 loss.
The Ospreys (4-4) were dominant in the paint in the first half, scoring 25 of their 33 points. Juniors Dasha Eremeeva and Janesha Green scored eight points apiece as the team recorded a 48 percent clip from the field. The Wildcats (6-3) were ice cold from beyond the arc, nailing only one of their 10 three pointers.
Despite their impressive first half, the Ospreys began making mistakes, gifting 12 turnovers to the Wildcats. Bethune Cookman took advantage of the turnovers, scoring 16 points off of them. Freshman Kiana Williams was the impact player for the Wildcats, scoring a career-high 23 points throughout the game. Williams' sharpshooting performance led the Wildcats to a 76-60 win.
Senior Arianna Emanuel-Wright led the Ospreys with 18 points and Junior Jazz Bond recorded 16 points and led the team in rebounds with nine. This game was Bond's debut as an Osprey.
The Ospreys return home for the UNF Holiday Classic where they will play their first game against Alabama A&M on December 20 at 2 p.m.
—
For more information or news tips, or if you see an error in this story or have any compliments or concerns, contact [email protected]