Aquaman: The hero who could be king
With all the DC characters that are getting solo movies, it was only a matter of time before they gave one to one of their most exotic heroes, Aquaman.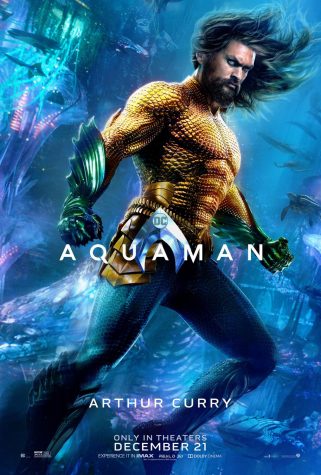 The Atlantean's story starts with Arthur Curry (Jason Momoa) fresh off of joining the Justice League, who's then told by Mera (Amber Heard) that his brother King Orm (Patrick Wilson) of Atlantis plans to destroy the land world. Despite being of royal blood, Arthur is a half-blood outsider, unworthy of the throne. To stop the oncoming war, he must go on a quest and find the Triton of Atlan, an ancient weapon that can unite all the underwater kingdoms and bring peace to the underwater world. Along the way, they encounter sea monsters, mercenaries bent on revenge, and all sorts of epic treats in a film that does a good job at expanding the DC universe.
This movie is filled with ambitious scenes and direction. From the underwater environment to the characters in the movie, I was initially skeptical Warner Bros. could pull it off.  Thankfully Warner Bros. made the wise decision of having James Wan direct. He has a great eye on how to visualize, shoot, and altogether create a cool film. This is easily the best looking film the DC Universe has offered–the colorful landscapes and the phenomenal costume designs match the comic perfectly and seem so real.
The film offers more than just strong visuals too, as Momoa's Aquaman gives the audience a new take that will finally make superhero fans think twice before making fun of the King of Atlantis. Momoa's easygoing personality has always been one of the best elements of the films he has been a part of, and "Aquaman" is no different. This film also offers a colorful supporting cast to back up Momoa's great performance. 
My only criticism is that the film, while very good, is also quite overlong. There are pieces to the quest that felt too drawn out and overdone, resulting in a loss of flow. Luckily, the characters are so good they pull you through, not to mention the touching and exciting sequences that pull us out of the slow journey and race us to the spectacular climax.
Overall, "Aquaman" is a cool film that turns one of DC's most lampooned characters into a force to be reckoned with. I will gladly dive in to see it again in the future
Rating: 4 out of 5 sails

—
For more information or news tips, or if you see an error in this story or have any compliments or concerns, contact [email protected].