Ospreys lose in overtime slugfest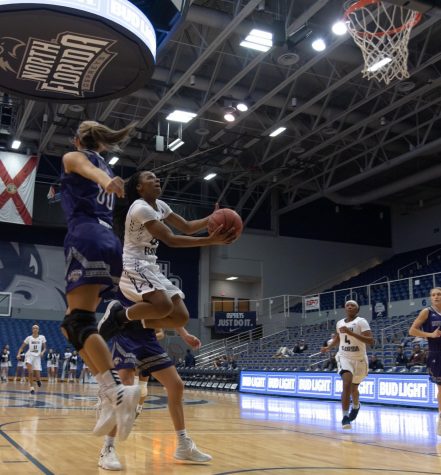 In a back and forth defensive battle that saw both teams held under their season averages, the Ospreys lost a hard-fought contest to the University of North Alabama Lions 70-64.
After Senior Arianna Emanuel-Wright opened the scoring with a pretty backdoor cut for a layup on the baseline, the Ospreys blitzed the Lions early, shooting 60 percent from the field en route to a lead as large as 12 points.
"Really pleased with how we started the game, we got off to a great start; jumped out on them," UNF Head Coach Darrick Gibbs said. 
The UNA Lions withstood the early storm, fighting their way back from the deficit, to tie the game 19 at the end of the first quarter. The Lions began to score in transition, scoring four points to the Ospreys' zero in the quarter.
In the second quarter, the pace slowed for both teams with defense taking control. The Ospreys were held to 22 percent from the field in the quarter, while the Lions shot 25 percent.
The Lions led 31-28 at the half, after outscoring the Ospreys 15-8 on points off turnovers.
The Ospreys trailed in the third quarter by as many as ten points before closing to within four to end the period (44-48).UNF continued to chip away at the lead, staying in striking distance, using active hands and quick feet on defense.
"We did a good job of spacing our zone when we needed to and communicating our shooters through, and forcing tough shots…we're one of the best defensive teams in our league, and we've been that way all year," said Gibbs.
With four minutes left in the game, UNF took its first lead since the first quarter, on a three-point shot by Senior  Ty Purifoy.
40 minutes wouldn't be enough as regulation ended in a 58-58 deadlock, sending the game into overtime.
The extra period featured much of the same as the previous 40 minutes, smothering defense from both teams.  The Osprey's failure to make shots and the dominance inside from Junior Brittany Panetti of the Lions was too much down the stretch.
Panetti scored 28 points and hauled in 13 (five offensive) rebounds to lead both teams. Emanuel-Wright led the Ospreys with 15 points and nine rebounds.
The Ospreys head north to play Lipscomb on January 8 at 7:30 P.M.  
—
For more information or news tips, or if you see an error in this story or have any compliments or concerns, contact [email protected].