UNF Athletics Weekend Recap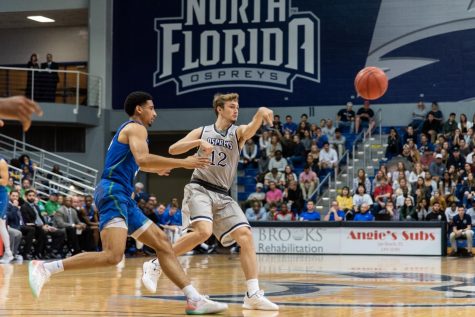 Both Men's and Women's Basketball, Women's Tennis, and Track and Field were in action in a busy UNF Athletics weekend.
Men's Basketball
The Men's Basketball team traveled to Lynchburg, Virginia on Saturday to take on the 16-4 Liberty Flames. The Ospreys lost a tight one with a final score of 70-64 in favor of Liberty. The leading scorer for the Ospreys was Junior Ivan Gandia-Rosa with 19 points. The Ospreys then came back home to host 15-5 NJIT at UNF arena. The Ospreys lost another tight one 76-72 with Gandia-Rosa leading the team in points again with 18. This brings the Osprey record to 9-12 for the season.
Women's Basketball
The UNF Women's basketball team traveled up to Lynchburg, Virgina on Saturday, Jan. 19  to take on Liberty. UNF lost the game by a final score of 69-53. The leading scorer for the Ospreys was Redshirt-Sophomore Jazz Bond. This brings their season record to 7-9.
Track and Field
The track team traveled to Columbia, South Carolina this weekend where Freshman Jaasiel Torres won the High Jump. Also in the field competitions, Freshman Austin Thompson came in second place in the Pole Vault and Freshman Kaley Petrosky tied for second in the High Jump. On the track side, Junior George Escobar broke the school record in the 400m dash with a time of 48.47. Juniors Jade Sullivan and Crystal Liebenberg also both ran personal best times in the 400m dash placing third and fifth in the race. Juniors Noah Perkins, Rob Leverone, and Sophomore Leo Queyrou all ran personal best time in the 3K race to place second, third, and fourth. Then in the Women's 3K, Freshman Lydia van Dijk shattered her previous personal best and took third place.
Women's Tennis
The Women's Tennis team traveled to Atlanta Georgia this weekend to participate in the ITA regionals hosted by Georgia Tech. On the doubles side, the duo of Senior Rafaela Gomez and Junior Constanza Gorches played their way all the way to the quarterfinals before being defeated by the doubles duo from the University of Georgia. On the singles side, Gomez advanced all the way to the round of 16 before being defeated by Sophomore Victoria Emma from the University of Florida.
—
For more information or news tips, or if you see an error in this story or have any compliments or concerns, contact [email protected]