Eagles dominate Ospreys in battle of the birds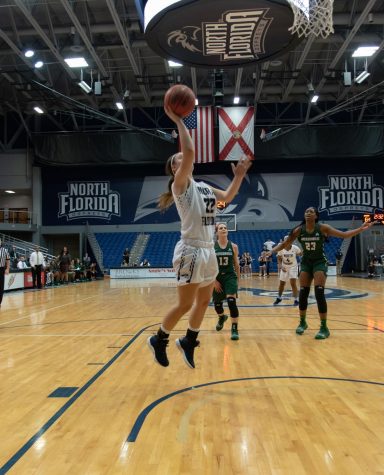 With costly errors and a large turnover margin, the Ospreys fell to the Eagles on the road in an 80-48 Loss
The first quarter was lackluster for both sides early in the game as both teams were held scoreless in the first two minutes until Redshirt-Junior Keri Jewett-Giles made a layup close to the rim to put the Eagles up, 2-0. It was tough for the Ospreys to find the hoop throughout the first quarter until they scored on three straight baskets to end the quarter, 14-7.
The Eagles continued to pour it on in the second quarter as they executed on open threes and took advantage of UNF's 12 turnovers. Jewett-Giles scored 12 points in the half and was 2-4 from long range. Redshirt-Sophomore Jazz Bond recorded nine points for the Ospreys with six rebounds.
The second half was all FGCU as they didn't loosen the reigns and kept a competitive mentality. The Ospreys continued to fight until the last second but it was too late for a comeback. Although UNF outscored the Eagles, 19-16, in the fourth quarter, FGCU won, 80-48.
The 23 turnovers were the major difference maker in the game as the Eagles scored 28 of their points off turnovers.  Bond finished the game with a double-double (18 points and 11 rebounds). Junior Adrienne Jackson scored 10 points and led the team with four assists.
Jewett-Giles led the Eagles with 16 points and seven assists. Redshirt-Sophomore Chandler Ryan scored 15 points (5-9 from the field).
This loss drops UNF to 7-11(2-5 ASUN) and the win improves FGCU to 15-4 (6-0 ASUN). The Ospreys travel to Kennesaw as the team takes on Kennesaw State on Tuesday, Jan. 29 at 11 a.m.
—
For more information or news tips, or if you see an error in this story or have any compliments or concerns, contact [email protected].