From small town American to culture builder; Profiling Coach Darrick Gibbs
It's a Tuesday night in January, another of many during a long basketball season. University of North Florida (UNF) head women's basketball coach Darrick Gibbs breathes a sigh, thanks the assembled press and departs the room with two of his players, Jazz Bond and Adrienne Jackson. He and his team have just lost a tough home game to crosstown rival, Jacksonville University. The Ospreys have lost 13 in a row in this series, making use of the term "rivalry" dubious at best at the moment. Gibbs, though, is not the kind of man or coach that will stay down for very long.
Darrick Gibbs comes from Pawley's Island, South Carolina, a small town located between Charleston and Myrtle Beach. Like many other basketball coaches, he grew up with hoop dreams, playing both guard positions in high school.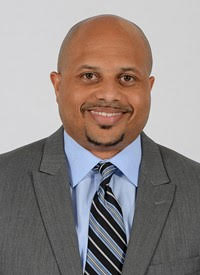 "It was something that kept me on the straight and narrow growing up. I just loved it." Gibbs said of his feeling for the game. That love would become the spark which led to the fire of being a coach.
After high school, he moved onto Wofford College.
"Wofford was actually in a transition period from Division II to Division I when I went to school there."
He said the school wasn't looking for marginal players; they wanted Division I players, and that wasn't him. His thirst for the game led to countless hours spent at Wofford practices for both men and women. He studied what he saw and began to learn, making himself a proverbial basketball sponge.
He cites University of Miami head coach Katie Meier as a coaching mentor.
"I would not be where I am without her and the experience she provided me." He said.
He also speaks of David Graves, who he says gave him his first opportunity at Wofford. Those two coaches, he says, are the ones who helped him to get his first coaching jobs. He also says that they are the first two people he calls if he wants or needs advice.
When asked who he considers a coaching idol in the women's game, he pauses for a moment to deliberate. His response is a predictable one.
"I would say the person that I would have the utmost admiration for on the whole, is probably Gino [Auriemma]." Gibbs said. He is less enthralled, however, by the wins, losses and tremendous overall success (10 national championships at UCONN), as by Auriemma's longevity and ability to maintain his success without compromising the standards of his program for talent.
"Being a male in the profession and being able to stay on top of the game for as long as he has is amazing," Gibbs said.
Discussing idols and influences seems to lead to the unlocking of fond memories of great coaches he has opposed on the sidelines. This is evidenced by the smile that slowly spreads across his face as the memories return.
He fondly remembers being on the staff at Miami that gave Notre Dame legend Muffett McGraw her first-ever ACC (Atlantic Coast Conference) loss. He has also coached multiples times against 1000+ win legend Sylvia Hatchell (University of North Carolina head coach) and now deceased Hall of Famer, former Tennessee coach Pat Summitt.
Of course, players being just as important as coaches, the debate ensues about the best players in the women's game.
Gibbs mentions a slew of names, unable to get down to one singularly identifiable G.O.A.T. (greatest of all time).
He mentions LA Sparks and former Tennessee Volunteer star Candace Parker, NY Liberty and UCONN star Rebecca Lobo, whom he credits with really getting the whole thing going at that program (UCONN). There are others, to include Lisa Leslie, Maya Moore and others. He spends the time to differentiate between players that were and are great on the floor but also those who had an extra impact on the game itself.
His passion is visible, not only on the floor when he is coaching, but in the way, his eyes light up just discussing the game.
What is Gibbs most proud of in his coaching career?
"I would say, the overall growth in the profession," he said. "And the long-lasting relationships that I've built and still have. When you got players that are getting married and have kids calling you and inviting you to their wedding, wanting you to be involved in that aspect of their lives long after they're done, to me that's a big deal."
Gibbs has coached women for his entire career, so when prompted, he doesn't have any commentary on the difference between coaching men and women. He speaks to how much he loves the relationships that he has been able to develop with his players, former players and even players he recruited but did not eventually play for him.
It is, however, the year 2019. The "Me Too" movement is in full swing. As a male coach in a female-dominated environment, there are, however, possible pitfalls. As such, Gibbs is very aware and clearly has given the issue a great deal of thought.
"It does make things tough at times because what we do is built on genuine relationships that are developed over a period of time," Gibbs said. "In order for us to get the most out of our group we usually have to break down walls and build trust through the relationships we have. With that being said, there is a fine line that has to be established and maintained through it all. The mindset always has to not to leave anything to chance or misinterpretation." Gibbs also mentions that he does have female members of his staff that can handle sensitive issues.
He is liked and respected by his players.
"He has really great confidence in all of his players," said forward Jazz Bond. "He tells me and shows me that he has confidence in me, and that allows me to do better on the court."
"I enjoy playing and being coached by Coach Gibbs. I like his view on the game, I like his plan for every game," says forward Dasha Eremeeva, a Russia native who now starts for Gibbs. She played for female coaches previously and cites a marked difference in temperament (in her experience). She references Gibbs' calm demeanor and said she prefers it.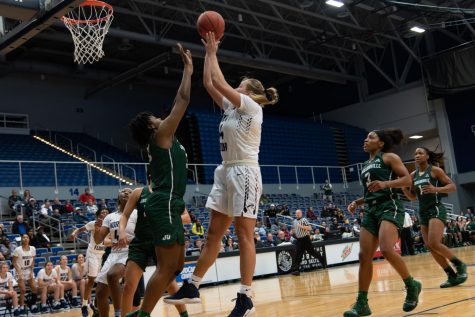 Bond compliments Gibbs on the relationships he builds with his players.
"Not even like, with basketball; outside of basketball, he makes sure that you're doing all right, whether it be school; just life in general," she said. "One day he did teach us how to change a tire," Bond remembers with a laugh.
"The coaches in Russia, they were not so into their players. They care only about basketball stuff," says Emereeva. "He [Gibbs], helps me to believe in myself and be more confident."
"He has helped me in building relationships as well as goal setting and planning. That's very important in life," said guard Arianna Emanuel-Wright.
If the opinion of his players is any indication, Gibbs has done a great job navigating the challenges of his sex as it relates to his position.
He works tirelessly to bring both on and off court success to the Osprey women.
"I'm a big-time culture person. I think nothing trumps culture…I feel very good about where our culture is headed and how we're trying to sustain it."
*UPDATED: 2:40 p.m.
—
For more information or news tips, or if you see an error in this story or have any compliments or concerns, contact [email protected]