UNF Baseball topples Gators
The Ospreys earned a 7-1 victory against the Gators with lights out pitching and the hitters putting on a showcase.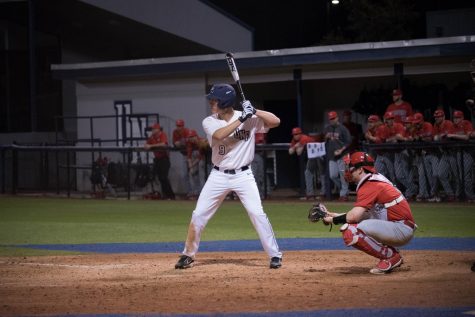 At the plate
The Ospreys set the tone early in the game as Senior Jay Prather lined a single to right to score runner to get an early 1-0 lead in the first inning.
Junior Tanner May was due up in the second inning and blasted a ball to the left field bleachers for a solo home run to push the lead to 2-0, Ospreys.
Another Tanner, Junior Tanner Murphy that is, followed suit in third with a bash to left for another solo home run as the Ospreys led 3-0 in the third inning.
The Gators finally got on the board in the sixth inning with a sacrifice fly by Freshman Cory Acton scored one to put the Gators down two, 3-1 UNF.
The third Tanner for the Ospreys, Junior Tanner Clark, scored Senior Alex Reynolds on an RBI single to right in the top of the ninth for a 4-1 Ospreys lead.
Senior Chris Berry busted the doors wide open with a three-run-dinger that hit the right field video board for a 7-1 Ospreys lead.
On the mound
The Ospreys used the opener system for pitching as a committee of six pitchers set the Gators down, only allowing eight hits and one earned run.
Senior Nick Marchese started the game and pitched two innings of work where he struck out two and allowed a hit.
Freshman Logan Clayton stayed in the game the longest for the Ospreys with 2.1 innings of work, allowing two hits and punching out three.
Worth Noting
Three Ospreys recorded multi-hit-games (Chris Berry, Tanner May, Tanner Clark).
Senior Ethan Michaelis picked up his first win of the season after two innings of work allowing two hits and striking out two.
The Ospreys are now 3-1 in their first four games against SEC teams this season.
__
For more information or news tips, or if you see an error in this story or have any compliments or concerns, contact [email protected].