Ospreys power past Owls in slugfest
The Ospreys and Owls both recorded 11 hits but the Ospreys early scoring made the difference in a 7-5 UNF victory.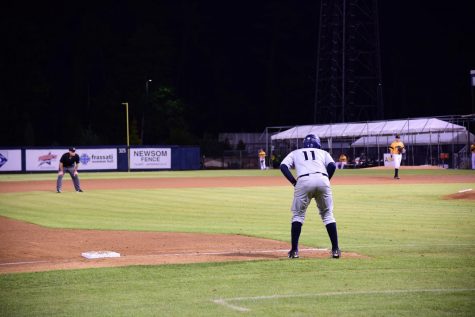 At the Plate
In the bottom of the first, Junior Tanner Murphy grounded a single to left to score the first run of the game. Redshirt-Senior Wes Weeks for a 1-0 lead. Junior David Maberry plated another run on a single to right for the second Ospreys run of the game.
Redshirt-Senior Wes Weeks lifted a sac fly to left to score a runner in the bottom to pad the lead to 3-0.
Senior Jay Prather scored Murphy on a double in the left-center gap for a 4-0 lead in the bottom of the third.
Junior Eric Rivera lines an RBI single to right in the top of the fifth to put the Owls on the board, 4-1 UNF.
In the bottom of the seventh, Junior Tanner May lined a laser to left for a double to score one as they Ospreys led, 5-1. Maberry later followed with an RBI double to left center to push the lead to 6-1. Junior Blake Marabell hit a sacrifice fly to right to score Marabell for an insurance run as the Ospreys led, 7-1.
Junior Pedro Pages sent a ball on top of the batting cages in left field for a grand slam in the top of the ninth as the Owls inched closer, 7-5.
On the Mound
Senior Ethan Michaelis tossed five innings of one-run ball for the Ospreys, allowing four hits and striking out two.
Freshman Hunter Cooley had a short outing for the Owls after throwing three and two thirds innings, allowing four runs (three earned) and allowing seven hits.
Freshman Zach Chappell worked one and two thirds innings in relief allowing two hits, walking two, and striking out one batter.
UNF Manager Tim Parenton talked to the Spinnaker about the team's hitting in the win over the Owls.  
"We started off the first inning hitting the ball well, stayed all the way through the end. It was big to put up those three late in the game because that grand slam would have put them (FAU) on top of us," Parenton said.
Worth Noting
The win improves UNF to 6-3 and the loss drops FAU to 3-5
Michaelis picks up the win as his record is now 3-1
Cooley takes the loss with a new 1-2 record
Redshirt-Junior Eddie Miller registered his second save of the season.
Four Ospreys recorded multi-hit games
Maberry led the offense, going 2-4 with two RBI's and talked to Spinnaker about his performance.
"At the plate, I had some things I was working on with the coaches and I just went out and did it tonight so it felt really good," Maberry said.
—
For more information or news tips, or if you see an error in this story or have any compliments or concerns, contact [email protected]