Broncos power past Ospreys in series opener
Western Michigan defeated the North Florida Ospreys, 10-1, after being fueled by 17 hits, including three deep flies outside the ballpark.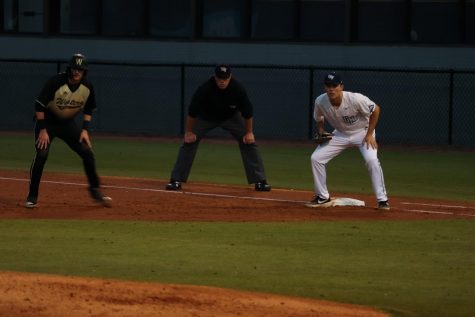 The Broncos made an early impression in the top of the first as Senior Jesse Forestell scored two on a single to right for an early 2-0 lead. Sophomore Sean O'Keefe added an RBI single of his own to extend the lead to 3-0.
In the bottom of the second, Senior Jay Prather scored from second on an RBI single to right by Senior Alex Reynolds to cut the deficit to 3-1, Broncos.
Senior Jimmy Roche connected on a long ball to left-center in the top of the fourth as he trotted around the bases to extend the lead to 4-1 Broncos.
In the top of the fifth, the Broncos registered a pair of runs after Senior Nate Grys hammered a two-run jack for a 6-1 Broncos lead.
Junior Drew Devine scored in the top of the sixth on a fielding error by Junior Tanner May at shortstop to extend the lead to 7-1.
Forestell connected on a home run to right field in the top of the seventh for an 8-1 lead. Roche drove in a run on a single to left field to pad the lead to 9-1.
Senior Cooper Marshall drew a bases-loaded-walk to plate a runner as the Broncos reached double-digits for a 10-1 lead.
The Broncos finished the game with a 10-1 win after setting down the Ospreys in the bottom of the ninth.
"We just got outplayed, got outcoached and it's just one of those games in baseball. We had chances early to get back in the ballgame and did not do a good job putting the ball in play," Coach Tim Parenton said about the loss.
The loss puts UNF at 8-7 and the win improves Western Michigan to 5-8.
The Ospreys play the Broncos on Saturday, March 9 in a doubleheader with the first game starting at 11:05 a.m.
—
For more information or news tips, or if you see an error in this story or have any compliments or concerns, contact [email protected]