Dolphins outlast Ospreys in 10-8 dogfight win
After a hot start by the Ospreys, the Jacksonville University Dolphins ran up the scoreboard in the final innings to win 10-8 in a tight game at Harmon Stadium.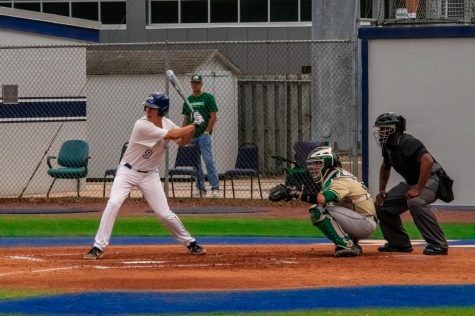 The Ospreys had a huge first inning with three runs after two singles and a fly out to right field, allowing Seniors Chris Berry, Jay Prather, and Wes Weeks to score home and put them up, 3-0.

The hot start for the Ospreys showed nothing in the second and third inning when the Dolphins were able to answer with a deep home run to left field from Junior Corey Heffron in the top of the second and a single to first by Junior Scott Dubrule in the top of the third plated Junior Ruben Someillan to cut the Ospreys lead to 3-2.

In the bottom of the fourth inning, North Florida put up two runs when Junior Blake Marabell scored home after Prather singled up the middle. Junior Tanner Murphy stepped up to the plate and hit an RBI single up the middle, scoring Berry and helped extend their lead to 5-2.

The fifth inning presented a whole lot of action from both teams starting with two runs from the Dubrule and Senior Angel Camacho scored on a hard hit two-RBI single through the left side from Southern. Redshirt-Senior Reagan Wright then singled the ball to center field for an RBI and tied the game up at 5-5.

North Florida answered immediately in the bottom of the fifth when Weeks homered down the left field line. Marabell added two more runs when he hit a two-run dinger to left,  allowing himself and Senior Alex Reynolds to score and put the Ospreys up, 8-5.

The Ospreys bullpen unraveled in the seventh inning when they allowed five runs to put the Dolphins up, 10-5. JU's lead loomed too large to overcome for the Ospreys in a 10-8, Dolphins win.

Worth Noting 
Murphy and Marabell led the Ospreys attack with two RBI's apiece.
The loss drops UNF to 17-16 (3-5 ASUN) and the win improves JU to 20-11 (6-2 ASUN).
The Ospreys and Dolphins play a rubber match on Sunday, April 7 at 1:05 pm.
—
For more information or news tips, or if you see an error in this story or have any compliments or concerns, contact [email protected]