Ospreys end winning streak in road loss to UNA
The University of North Alabama Lions ended the Ospreys six-game winning streak with a commanding 8-4 win of their own.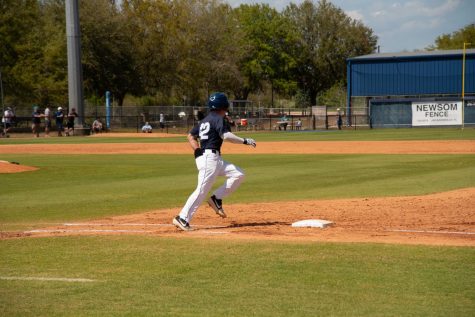 In the second inning, Senior Peyton Sockwell drove an RBI single to plate one and put the Lions up, 1-0.

The third inning consisted of a few runs from the Ospreys when Junior Austin Hurwitz hit a sac fly RBI out to center field, allowing a runner to cross home plate and tie the game at one.
The Ospreys scored two more times in the third inning when Redshirt-Senior Wes Weeks scorched a single to score two runners and pick up a 3-1 Ospreys lead.
The Lions answered in the fourth inning when Sockwell connected on an RBI double to score one and cut the deficit to 3-2, Ospreys.

The Lions scored again in the fourth when Freshman Reid Singewald scored on a passed ball and tied the game at 3-3.

Neither team scored again until North Alabama's Redshirt-Junior Tate Mathis drove an RBI single out past the pitcher and plated a runner to pick up the 4-3 lead.
In the eighth inning, the Lions' Redshirt-Freshman Harris Kain had recorded a sacrifice groundout to score a runner and push their lead to 5-3.
The Lions scored two more times this inning when Sophomore Kevin Brenning lined a single that scored two to stretch their lead 7-3.

North Alabama was able to put up one more run on the Ospreys when Junior Ben Kiefer hit an sac fly RBI out to right field and plated one final run in the eighth as they led, 8-3.
The Ospreys didn't hold back and tried to rally in the ninth after Junior Blake Marabell ripped an RBI double to plate a runner and cut the Lions lead to 8-4. Ultimately, that was the only magic that happened in the ninth as the Ospreys lost, 8-4.

Worth Noting
Senior Chris Berry set a new UNF Division I record with 114 career walks.
Weeks and Junior David Maberry were the lone batters to record a multi-hit game(2).
The loss drops UNF to 23-17 (8-6 ASUN) and the win improves UNA to 11-27 (5-9 ASUN). North Florida takes on Florida A&M on Saturday, April 27 at 4:05 pm.

__
For more information or news tips, or if you see an error in this story or have any compliments or concerns, contact [email protected].