Ospreys split doubleheader with Bisons
After a convincing 8-4 win for the Ospreys in game one, the Bisons countered with an impressive pitching performance to win, 1-0.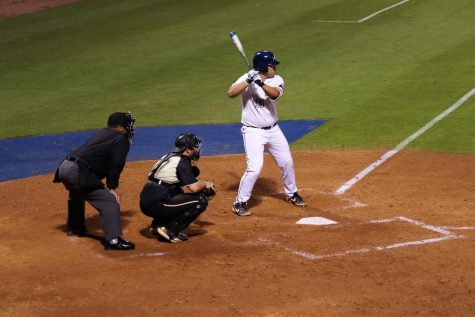 Game One

The Ospreys took the lead early in the first inning when Junior David Maberry doubled down the first base line, plating two for an early 2-0 lead.

Lipscomb's Redshirt Senior Tevin Symonette homered past the left field wall in the bottom of the first and cut the lead to 2-1, UNF.

In the second inning, Junior Tanner May scored on a grounder to extend the Ospreys lead to 3-1.

Symonette struck again in the third inning with an RBI double to plate one, putting the score at 3-2, Ospreys.
After a three inning stalemate, Lipscomb tied the game at three when Senior Zeke Dodson scored home after an RBI single through the right side from Junior David Graves.

The Ospreys took the game into their own hands in the seventh inning when Senior Chris Berry, Sophomore Raff Libunao, Junior Tanner May and Redshirt-Senior Wes Weeks all scored to stretch their lead to 7-3.

Berry added an insurance run in the eighth with a solo dinger to extend their lead to 8-3.

Lipscomb scored once more in the ninth inning but couldn't piece together the comeback in the span of an inning for an 8-4 Osprey win.

Game Two

Dodson provided the only run of the game on a deep shot that cleared the wall for a solo homer in the bottom of the second and gave the Bisons a 1-0 lead.
Both pitchers were dealing as Junior Brandon Reitz of UNF went six innings, allowed one earned run and struck out four. 
Senior Joshua Colon tossed a complete game shutout for Lipscomb, going seven innings, allowing seven hits and punched out two.
Colon's shutout outing cemented the 1-0 Lipscomb win.

Worth Noting
The Bisons recorded two complete game shutouts in the series (Kachmar and Colon).
Weeks now leads the ASUN in stolen bases with 16.
The Ospreys are now 27-20 (9-8 ASUN) and the Bisons record is now 26-21 (10-8 ASUN).
North Florida battles Florida A&M on Tuesday, May 7 in Tallahassee at 5:05 p.m.
__
For more information or news tips, or if you see an error in this story or have any compliments or concerns, contact [email protected].