UNF Volleyball season preview
Fall season is soon approaching and UNF Volleyball is looking to rebound from their 11-22 season and start a new chapter that includes adding eight new faces to the squad.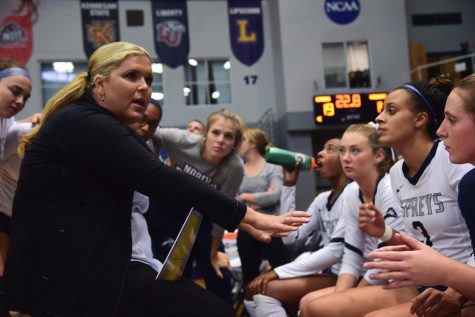 Entering her second year as head coach of UNF Volleyball, Coach Kristen Wright discussed the outlook and some new approaches for the upcoming fall with a new young team. 
"Recruiting changes a lot and we're still pretty young meaning we have four upperclassmen (one Senior, three Juniors). We want to have some patience. I think it took the first fall to adapt and I think the girls are in a really good place and bought in and trust and I think that's really critical," Wright said. 
Wright also mentioned the change in strength of non-conference schedule to build the team's confidence. 
"Another big change that we've made heading into conference is that last year, we played a significantly high RPI schedule. This year, we toned it down a little bit to focus on building confidence and having more opportunities to have winnable games to build that confidence going into ASUN," Wright said. 
One of UNF Volleyball's biggest strengths this year will be their defense. 
"Our defense has really impressed us so it's something I think that's going to be a tremendous strength of ours this year," Wright said. 
There are eight new faces on the team and Coach Wright mentioned some standouts early in the preseason. 
"I think defensively, Rocio Moro and Alessia Venturelli, you're going to hear a lot about. Two unbelievable Liberos, Rocio starts this weekend at Libero. She's incredible, I'd put her up against anyone in our conference. Alessia is pretty close to Rocio, they work really well together so thankfully they are on the same team," Wright said. 
Freshman Setter Julianna Askew was also mentioned by Wright regarding the new crop of talent.
"I think she's going to take over nicely from our senior last year, Madilyn McCarty. She's a freshman, she doesn't have the experience that McCarty does but she's pretty sharp, sets a good ball, she's very confident," Wright said. 
Sophomore Outside Hitter Solimar Cestero returns this season after making the ASUN All-Freshman team.
"I think Solimar is going to be a big piece to our success. She played a lot over the summer in Puerto Rico and we're really excited about her development in the spring. The tandem of her and O'Connell is going to be solid on the outside," Wright said.
Taryn Griffey returns for her Senior season at Middle Blocker and is coming off a stellar season, leading the team in blocks (105), points (384.5), and was second in kills (317). 
This season, Griffey wants to focus on developing her blocking more. 
"I want to focus on blocking because that is something that has been second to hitting for all of my volleyball career and it's something that I want to make first. It's a crucial part to the game, if you're going to block the ball, you're going to win," Griffey said. 
According to Griffey, the defense on this year's team is the best since she's been here. 
"It's going to be a huge difference because as an attacker to have a good defense behind you, even if your blocker isn't there, you trust that they can pick up that ball anyway. The more balls they get up, the more balls I can put away," Griffey said. 
Gabby O'Connell is a Redshirt-Junior Outside Hitter and led the team in kills (320) and digs (325)  last season. 
With a .184 hitting percentage last season, the Gainesville native is looking to improve on that this season. 
"I want to be a more efficient hitter this year. I think last year I was still trying to gain my feet from my injury and be a better leader on the court so I want to do my job better this year," O'Connell said. 
After spending time this spring trying out for the U.S. Women's National Volleyball team, O'Connell reflects on how it helped her develop more as a player. 
"Just being around great players and a great volleyball coaching staff kind of inspired me and motivated me to bring what I learned there back to my game here whether it's a confidence thing or skill wise," O'Connell said. 
Griffey and O'Connell mentioned a pair of new faces that already have their own nickname for their defensive prowess. 
"We call them the twin towers, Bria Plante and Maddie Boyd. One day, Bria had taken the role of the right side in practice and Boyd was in the middle so they were playing close together. When they went up together to block the outside, we went "whoa", the two said. 
The team morale remains high as the 11-22 record last fall puts a chip on their shoulder for the upcoming season. 
"We're extremely hungry, we have so many goals to achieve and go get. We're not settling for anything, we want to be number one at whatever we do and we're going to work to get that. I definitely think we have the talent on our side of the court to do it," Griffey said. 
—
For more information or news tips, or if you see an error in this story or have any compliments or concerns, contact [email protected]