Ospreys tie Eagles in double-overtime dogfight
Featured image by: Lili Weinstein
Video by: Brett Nweeia
In a battle of the birds, the Ospreys and Eagles fought through two overtime periods in a 1-1 tie. 
[embedyt] https://www.youtube.com/watch?v=5Nq_vYZwqUM[/embedyt]
The Eagles struck first in the 28th minute with a goal outside the box from Shak Adams. 
The Ospreys recorded three corner kicks and a shot on goal but couldn't find the net in the first half, trailing 1-0 at halftime. 
Mirza Nevoric tied the match at one with his first career goal in the 71st minute for UNF on an assist by Robbie Soronellas. 
Both sides were unable to break the tie and the match went into overtime with golden goal rules. 
Despite outshooting FGCU in two overtime periods, 6-1, the Ospreys couldn't capitalize and ended the match in a 1-1 draw.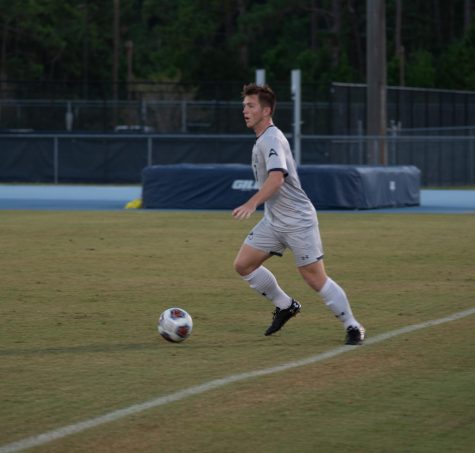 Throughout the match, the Ospreys had 16 offsides calls which hindered them from scoring. 
UNF Men's Soccer Head Coach Derek Marinatos mentioned his takeaways from the 1-1 tie. 
"I thought we didn't defend the way we normally have, we gave up some chances," Marinatos said. "I think in the second half, we turned it up, had some opportunities, got the red card when Jake (Hawker) was in the goal, then we scored. For me, the disappointment was not getting the second goal."
The tie now moves UNF's record to 2-3-2 overall (1-0-1 ASUN) and FGCU's record to 3-4-2 overall (0-0-1 ASUN).
UNF has an entire week to prepare for the River City Rumble when they play at cross-town rival Jacksonville University on Saturday, October 5 at 7:00 p.m.
__
For more information or news tips, or if you see an error in this story or have any compliments or concerns, contact [email protected].