Ospreys hang tough against Rattlers in five-set thriller
Featured image by: Darvin Nelson
The UNF Volleyball team endured a five-set battle that resulted in victory. This may sound familiar as the Ospreys did the same thing on Sunday against JU. This time, the Ospreys hosted FAMU and the match had fans glued to their seats throughout the five sets. 
The Ospreys and Rattlers battled it out early in the first set with Rattlers having a slight edge, taking a 25-22 first set victory after capitalizing on UNF's poor hitting percentage (.158).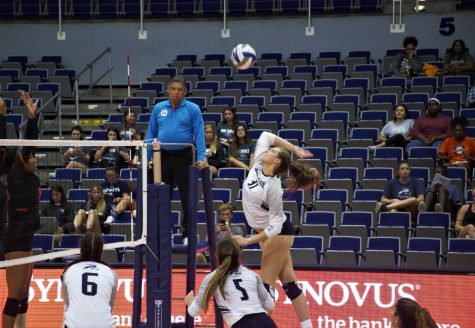 Coming back from dropping the first set, the Ospreys were playing with a chip on their shoulders, scoring on an attack error from the Rattlers for a 9-8 lead. The Ospreys were maintaining a steady lead, with the Rattlers trailing, 24-21, at set point. A spike from Maddie Norris buried the Rattlers for a 25-21 North Florida win in the second set. 
UNF kept that momentum rolling as they carried an 11-5 lead early, recording a .455 hitting percentage. The Ospreys took set three, 25-15, and Solimar Cestero led the squad with 12 kills through three sets. 
The Rattlers began the fourth set on a good note, taking an early 7-2 lead. Down 11-3, the Ospreys went on an 11-8 run to only trail FAMU, 19-14. The Rattlers continued to press on and despite the rally by UNF, the visiting team took the fourth set, 25-23. 
In a back-and-forth fifth set, the Ospreys gained an 8-7 lead before switching sides. Down the stretch, each team went tit for tat with each other until a service ace from Norris won the match with a 15-12 fifth set victory. 
Cestero, who led the squad with 19 kills throughout the five sets, described the team's mentality going into the final set.
"In the fifth set, we were more focused on us. We were trying to make less errors and go out and kill it," Cestero said. 
With Gabby O'Connell and Kirby Smith injured, UNF Volleyball Head Coach Kristen Wright has been experimenting with plugging in different players at different positions and described how that strategy has gone thus far. 
"We are a little thin on the outside which has caused Miriam Stingl to learn a whole new position," Coach Wright said. "Gabby isn't just an attacker, she's our second best defender and passer so having people step up in that role has been huge."
This win improves UNF to 9-12 (2-4 ASUN) and FAMU drops to 6-14 (4-2 MEAC). 
The Ospreys stay home and take on conference foe, North Alabama, on Friday, October 18 at 7:00 p.m. 
__
For more information or news tips, or if you see an error in this story or have any compliments or concerns, contact [email protected].