Letter from the Editor: Spinnaker releases 2023 digital magazine
Right around this time last year, I wrote how I sat down — pen and paper in hand — "hell-bent" on writing the perfect Letter from the Editor. Now, that idea has been flipped on its head, and I write this alongside the perpetual click-clack of my keyboard. With the constant spamming of the backspace, of course. 
Normally when we release a new magazine, you'd be able to pick it up physically at any of Spinnaker's blue boxes on campus. Of course, there was always a digital version on our website (advertised on all of our newsletters and whatnot), but you'd be able to pick it up and flip through its pages. That changes this time around. This is not our first digital magazine (though it is our first post-pandemic one) but it does signal more change to come. 
We live in a world flush with digital media. Yes, newspapers are still printed so you can still get a morning paper, but meeting this expectation of timely newsgathering is achieved through technology. We're seeing that shift today with the rise of social media platforms like TikTok.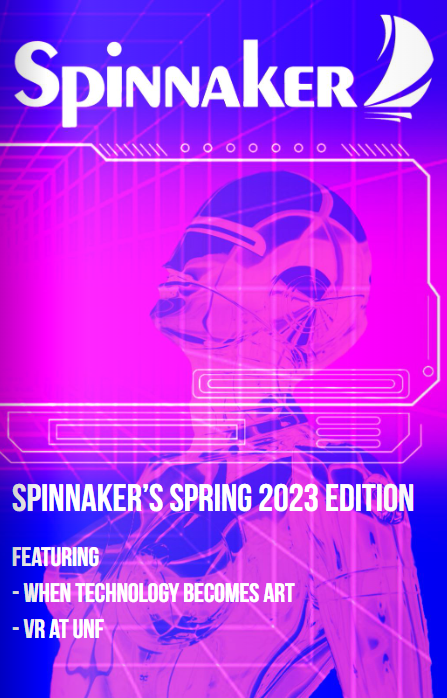 Big-name newsrooms (one of my favorites being The Washington Post) are jumping on the bandwagon of social media news dispersion in an attempt to peer through a crystal ball at the future of the industry.
Spinnaker launched its website in 1995 — just six years after the birth of the World Wide Web — and printed its last newspaper on Aug. 28, 2012. From then on, it pivoted to publish all content on the website (aside from the award-winning magazine). Now, we seem to have again reached this point of change.
Stepping back from that brief history lesson, I don't mean to suggest that print media is on its way to its funeral. It's not dying (though that's what some of you may argue), but it is shifting over to make room on the couch. 
Publishing physically or not, we are a team of students on the second floor of the University of North Florida Student Union, diligently working to keep you informed. Whether you find our content in a blue box, magazine stand, or by clicking a link online, your attention is priceless. 
Without further ado, welcome to Spinnaker's first (and probably not last) digital magazine. 
Read the magazine here.
___
For more information or news tips, or if you see an error in this story or have any compliments or concerns, contact [email protected].