SG Senate unanimously pass resolution proposing limits to faculty spots will address parking concerns
Student Government's Senate unanimously passed a resolution today proposing that faculty parking spots be redistributed and that faculty access to blue lots is removed to address parking concerns.
The resolution asserts that SG finds the following parking-related actions necessary, including but not limited to: 
Redistributing faculty parking

Removing faculty access to blue lot spaces

Creating an Osprey Connector express bus

Taking measures to incentivize the use of grey lots by students
Calling it an "incentivization issue" rather than a "parking issue," part of the bill aims to incentivize students to use the grey lots. One solution was to potentially create additional Osprey Connector stops that would transport students exclusively to and from the grey lots on campus. 
The other suggestion comes from redistributing a number of faculty spots to blue lot spots, in addition to removing faculty access to blue lot parking lots.  
According to the details of the bill, a UNF parking lot utilization assessment was conducted on Sept. 22 that discovered zero unused arena garage blue parking spaces at 10:30 a.m. 
The assessment also determined that 38 faculty spots were unused at that time, along with 2,586 unused grey lot spaces.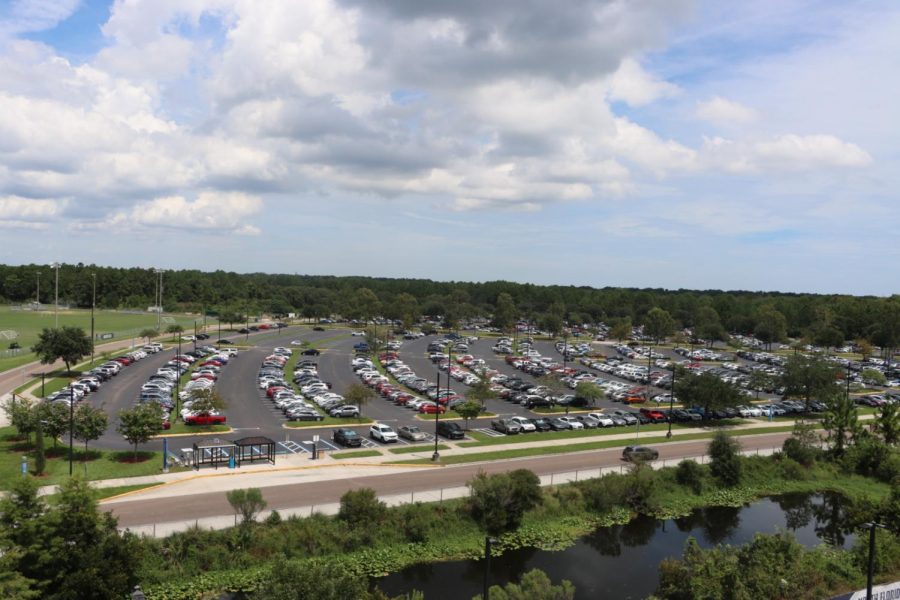 The bill alleges that UNF has not instituted any measures to increase parking availability since 2013. It also determined that UNF currently sells 2.2 parking passes for every available blue lot parking spot equating to 2,543 passes sold with 2,195 available spots. 
The rise in parking concerns over the past few semesters has been in part due to the influx of freshmen in the last two years as UNF welcomed the two largest freshmen classes its history has ever seen. 
Data collected from an Osprey Voice survey in Sept. 2019 found 81% of students surveyed claimed to have been late to class due to parking issues, and 79% rated their ease of parking as either somewhat difficult or very difficult. 
Senator Gabriel Smith said that he had conveyed these policy suggestions to George Androuin, the university's director of parking, who agreed with the feasibility of all proposed suggestions but not with the amount of time it might take to see these changes.
"I still think it's important to lay the groundwork for this happening in the future," Smith said. "We are students serving students, and that includes the students that are coming."
When asked what addressing faculty pushback might look like, Smith explained that providing faculty with a breakdown of the parking data will show its' necessity.  
Senator Rohith Kilambi expressed his support for the bill calling it "thorough" and hoping it improves the parking situation in the future. He cited the influx of freshmen becoming an ongoing problem, so fixing these issues now can help invite those students. 
"We're probably going to have an even larger freshmen class next year… if we don't do anything now it's just going to become a bigger problem," Kilambi said. 
 Now that the resolution has been approved, it heads to UNF President Moez Limayem, UNF Vice President of Administration and Finance Scott Bennett and Director of Parking Services George Androuin. 
___
For more information or news tips, or if you see an error in this story or have any compliments or concerns, contact [email protected].