Men's basketball's struggles continue in road loss to North Alabama
FLORENCE, Ala. – Carter Hendricksen showed out yet again, scoring 31 points, but didn't receive much help as the majority of the University of North Florida roster sputtered in a 91-78 loss to the North Alabama Lions.
After snapping a three-game losing streak against Queens on Jan. 19, the Ospreys have fallen right back to their old ways, now in the midst of another three-game skid. Losing six of seven in the middle of conference play has plunged UNF to 12th in ASUN conference standings.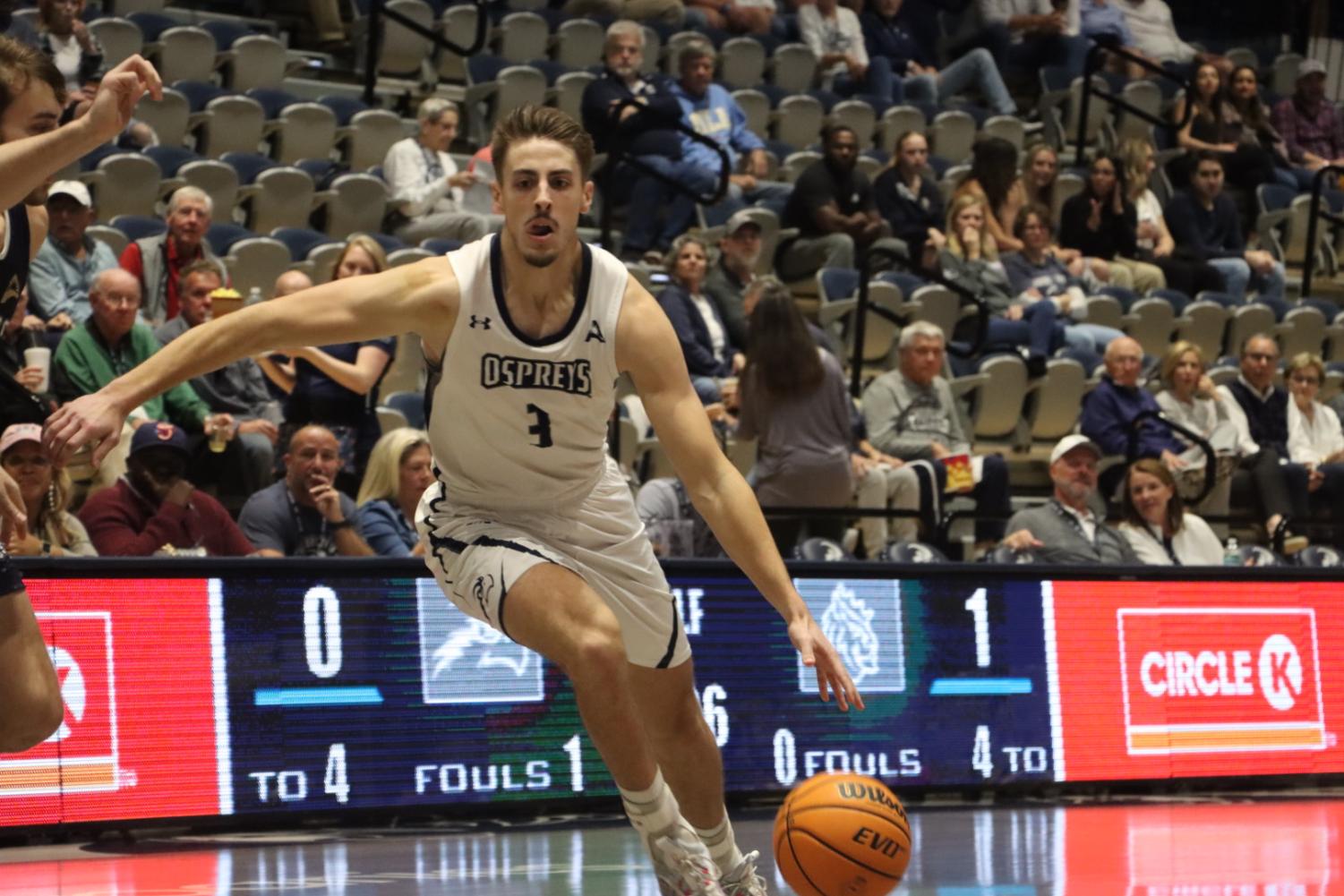 Widespread lack of production plagued the Ospreys on Saturday. Excluding Hendricksen's 31 points and guard Jarius Hicklen's 11, the rest of the starters combined for just seven points. This is no new phenomenon, as Hendricksen has scored upwards of 30 points in three of UNF's last four games.
The Ospreys' record during that stretch? Just one win and three losses.
UNF has not been able to capitalize on these incredible performances, something that was evident over the weekend. The game got off to a less than ideal start, with the Lions jumping out to a quick 20-6 lead. 
Things got ugly in fast fashion, with North Alabama opening up a 23-point lead with over eight minutes remaining in the first half. Thanks to the efforts of Hendricksen and forward Dorian James off the bench, the Ospreys did some damage control and closed the gap to just 10 points going into halftime. 
Big time putback bucket from @dorianj12 !

📊 https://t.co/aX1zOyHysu
📺 https://t.co/jnOzc5PfL4#BirdsofTrey pic.twitter.com/Qips646ruG

— UNF Men's Basketball (@OspreyMBB) January 28, 2023
It could have been worse, but UNF entered the second half with the chance for a fresh start. They kept things in check, but the deficit mostly remained around 10 points until the midway point in the half.
Thanks to the efforts of guard Daniel Ortiz, the Lions opened the lead up to 16 points on a few occasions. The Ospreys had worked hard to get back in contention, but there was plenty of work left to be done.
A pair of free throws by Hicklen cut the lead to 10 with two minutes remaining, but it was too little, too late. North Alabama hit their free throws as needed, preventing the Ospreys from getting back within reach. 
The Lions closed it out, winning by 13 points to improve to a record of 13-10, now sitting eighth in the ASUN. It was a nice week for UNA, who also picked up a hefty win over the Jacksonville Dolphins on Thursday.
Speaking of the Dolphins, the Ospreys have an action-packed week ahead of them. Two bouts with JU – on the road Thursday and at home on Saturday – present a chance for them to get back in the game. It's now or never for the Ospreys if they want to turn this season around.
___
For more information or news tips, or if you see an error in this story or have any compliments or concerns, contact [email protected].