Men's basketball takes down Lipscomb in double-overtime thriller
NASHVILLE, Tenn. – The University of North Florida men's basketball team put up a plethora of points in their 114-111 win in double overtime against the Lipscomb University Bisons on Thursday.
The game saw two additional periods, taking a total of 50 minutes to separate the two squads in a late-season battle. As conference play winds down to its end, each game will be crucial in determining if and where a team is slotted in the ASUN tournament.
A bucket just four seconds into regulation was a sign of things to come, as Lipscomb quickly jumped out to a 11-2 lead. Things only worsened for the Ospreys, who found themselves down 15 points just under five minutes into the match.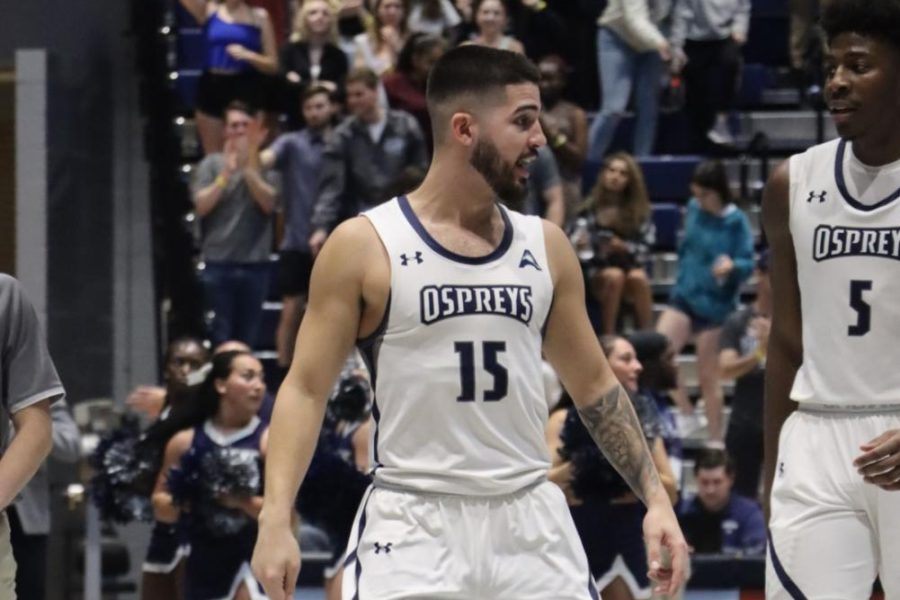 UNF had an answer, though, going on a 21-6 run to take a two-point lead at the midway point of the first half. Things remained close for the first half, but a last-second Jose Placer three-pointer gave the Ospreys a seven-point lead going into halftime.
Other than the high-scoring action, the first half saw history made. Forward Carter Hendricksen further cemented his legacy as an Osprey great by sliding into second all-time in career points in program history.
With this field goal, @c_hendricksen3 becomes second all-time in scoring in UNF history, passing Beau Beech!👏🏆#BirdsofTrey pic.twitter.com/tKCrk12Jmx

— UNF Men's Basketball (@OspreyMBB) February 17, 2023
The first twenty minutes of play provided plenty of excitement, but there was still – at least – one more half left to be played. Hendricksen picked up where he left off, scoring the first three baskets of the second half for UNF. 
The score was close for all of the second half, but the Ospreys carried on their lead. This came to an end when the Bisons took an 87-86 with less than three minutes remaining in regulation. Lipscomb kept things moving, opening their lead up to four points.
It appeared as if Lipscomb may have completed an epic comeback of their own, but a four-point run courtesy of Placer helped tie things back up and send the game into overtime. The typical 40 minutes had concluded, but this battle was just getting started. 
Placer, who ended the night with 32 points, was a key factor in overtime. However, it was guard  Chaz Lanier who contributed a pair of three-pointers, with the second knotting things up 102-102 to push the game into a second overtime period. 
Overtime's sequel saw five lead changes, but the most crucial came when UNF guard Jarius Hicklen knocked down the game-winning three-pointer with just five seconds remaining. The Bisons heaved a quick response, but had no luck in extending the game.
.@jhoop_5 for the lead, BANG  🔥

📊 https://t.co/9Gv37FGUxJ
📺 https://t.co/DSNdU7tUDE#BirdsofTrey pic.twitter.com/oL5RRrk9Jk

— UNF Men's Basketball (@OspreyMBB) February 17, 2023
A 114-111 win was highlighted by the all-around team effort by UNF. Six different Ospreys posted double-figures in scoring. Games like these can wind down even the deepest of squads, making production from multiple sources pivotal in picking up the win.
Thursday's win propelled UNF from ninth in the standings to seventh, highlighting how evenly-matched many of the ASUN's teams are this year. With just three games remaining in the regular season, each outcome will be critical in determining the seeding for the tournament, whose winner receives an automatic bid to March Madness.
The Ospreys will look to continue rolling on Saturday when they face the Austin Peay State University Governors, rounding out their weekend trip in the Volunteer State. Following, UNF will be back in action at home for their final two games on the schedule.
___
For more information or news tips, or if you see an error in this story or have any compliments or concerns, contact [email protected].