"Educate, don't discriminate": UNF community members rally for diversity in education
"President Limayem, can you hear our voices? Can you hear us cry out, scared that DeSantis will take away our diversity, our safety, our way of learning? Can't you see that we fear for our university, our futures?" 
Those were just a few of the questions that Alivia Kalin, a University of North Florida student, posed to a surrounding crowd rallying on the Green Tuesday afternoon. 
Dozens of students, faculty, staff, alumni and community members stood shoulder to shoulder as they yelled chants and listened to speakers discuss why diversity in education is important to them. 
The Protect Diversity Education rally, organized by Students for a Democratic Society, UNF's on-campus student-run activist group, of which Kalin is a member, was to condemn what activists called "attacks on education" by Florida Gov. Ron DeSantis in recent months. 
People brought a wide variety of signs that slammed DeSantis's pledge last month to defund diversity initiatives in higher education, instead calling for the support of a diverse education. 
"Educate, don't discriminate," one said while another read, "You can't erase what we learn!"  
A Call to Action
SDS President Lissie Morales said there were specific goals for the rally, some of which included protecting academic freedom, free speech on campus and DEI efforts at UNF.
 "We want [Limayem] to maintain all existing commitments to DEI," they said. "Whether it's the office of diversity and inclusion — including all of its respective centers — providing safe spaces on campus for marginalized groups, protecting the diverse critical thinking education and protecting all faculty members." 
After a few SDS members gave their speeches to the crowd, they opened the floor to the audience and a never-ending line formed as students, former students and alumni gave their input on the issue — including UNF student Tirik Peterson, who voiced his concerns about what he said were DeSantis's attempt to reduce black history. 
"We cannot be set back by governors like DeSantis… we have to fight with our vote," Peterson said. "How can you speak for black people, LGBTQ people, how can you speak for marginalized groups if you know nothing about them?" 
Rachel Paul said that she wants other students to know that no matter who they are, the issues being protested affect them because ultimately, it affects the quality of their education and those around them. Paul is the president of Students United for Workers Advocacy at UNF, a student-led organization focusing on worker and human rights, and worked closely with SDS in organizing the rally. 
The two organizations wrote and co-signed a letter that was delivered to President Limayem's office, demanding that he meet a series of asks. Here are their four demands, as they appear in the letter:
President Limayem publicly stands with other Florida Universities against attacks from Tallahassee on academic and free speech.

President Limayem commits to transparency of compliance with targeted list-making activities (i.e. attempts to enforce HB7 when unpaused).

President Limayem maintain all pre-existing commitments to inclusivity, equity, diversity, and justice including, but not limited to,

The Office of Diversity and Inclusion with its respective centers on campus

Any course or initiatives that deals with DEI topics

President Limayem commits to protecting all tenure and adjunct faculty from termination or demotion.
View their full demand letter here.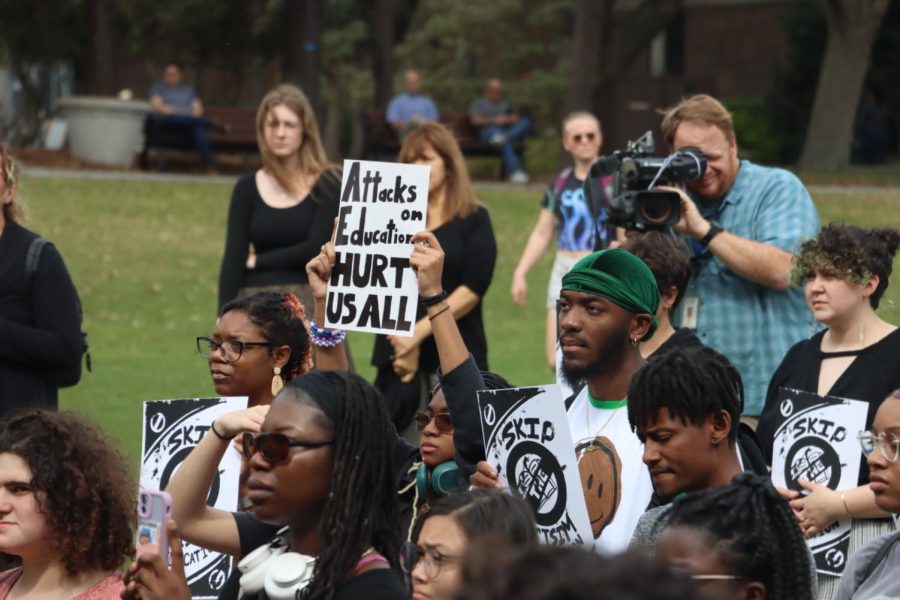 DeSantis and Florida Education
This UNF rally directly responded to several legislative proposals from the governor, including the "Stop WOKE Act" which calls for limits on how race issues may be taught in schools. 
DeSantis and his administration recently rejected the College Board's Advanced Placement African American Studies course due to certain topics they found "inappropriate." The national organization later released a revised version that focused on topics from a historical perspective rather than a contemporary one. 
Last month, the Florida governor announced his plan to defund all diversity, equity and inclusion initiatives at state universities across Florida. 
These moves have primed state-wide pushback from Florida students and educators alike and diversity topics in the state have made national headlines for weeks. 
On Thursday, the UNF president will be in the Talon Room for a planned, open discussion with students about their concerns. SDS President Lissie Morales told Spinnaker that some of their members plan to be in attendance. 
Spinnaker reached out to President Limayem for a statement and was sent the following by UNF Media Relations Manager Amanda Ennis on behalf of the university. 
"The University supports and encourages open dialogue and the free exchange of ideas and perspectives, and is committed to civility and providing a safe, inclusive and welcoming campus for all students, faculty and staff. President Limayem appreciates input from students and looks forward to continuing conversations at the student town hall meeting tomorrow."
___
For more information or news tips, or if you see an error in this story or have any compliments or concerns, contact [email protected].