Lambert introduced as UNF women's basketball head coach
Excitement filled the air of UNF Arena's Bank of England Suite as Erika Lambert was officially introduced as the new head coach of UNF women's basketball Wednesday.
Lambert arrives after seven seasons as an associate head coach at Abilene Christian University. While in Texas, Lambert was a part of a 122-46 conference record. 
Joining Lambert was her family and her new Osprey family, including the likes of men's basketball head coach Matthew Driscoll and director of athletics Nick Morrow. Morrow took the podium first, recapping the extensive process of deciding on their new hire.
"The search for our head coaching position was the most competitive search I've ever been involved in," Morrow said. "The amazing qualities of UNF and the untapped potential for success here at UNF positioned us to have a very deep candidate pool."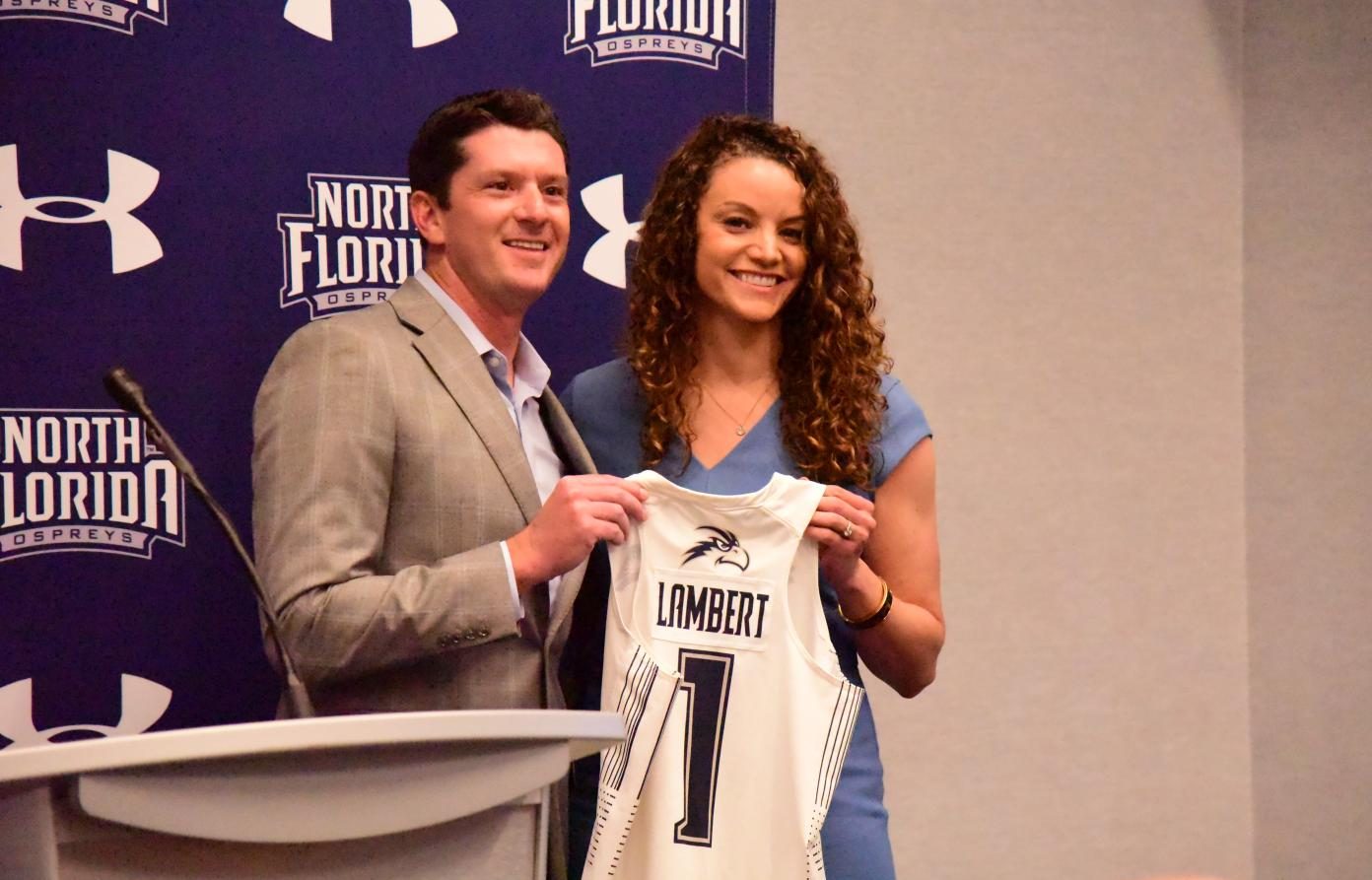 Lambert met Morrow at the podium to the sound of applause before taking the microphone. She expressed gratitude for those in attendance and her new opportunity. She then introduced her family who was in attendance, having flown in overnight from Texas, adding to the "whirlwind" that these last few weeks have been for Lambert and her family.
There was no shortage of humor, as Lambert was quick to acknowledge the beach as an influence in her decision to take the job. Following the standard round of thanks, she stressed the importance of focus on the players.
"It all boils down to one thing and that's the student-athletes," Lambert said. "I've had the privilege of starting to build relationships with the young women on our team."
Lambert then cut straight to the point, saying that she expects the Ospreys to consistently finish in the top three of the ASUN Conference. She placed great emphasis on offense, expecting to score 75 points per game and hit at least ten three-point shots.
As for accomplishing this, Lambert is well aware of the challenges that lie ahead. She specifically addressed the matter of recruiting and how her staff will go about making sure the Ospreys thrive in this area.
"We've just gotta up the ante in that area and make sure that my staff and I are trying to out-recruit everybody in the ASUN," Lambert said. "That just takes a lot of time and energy; it's a grind."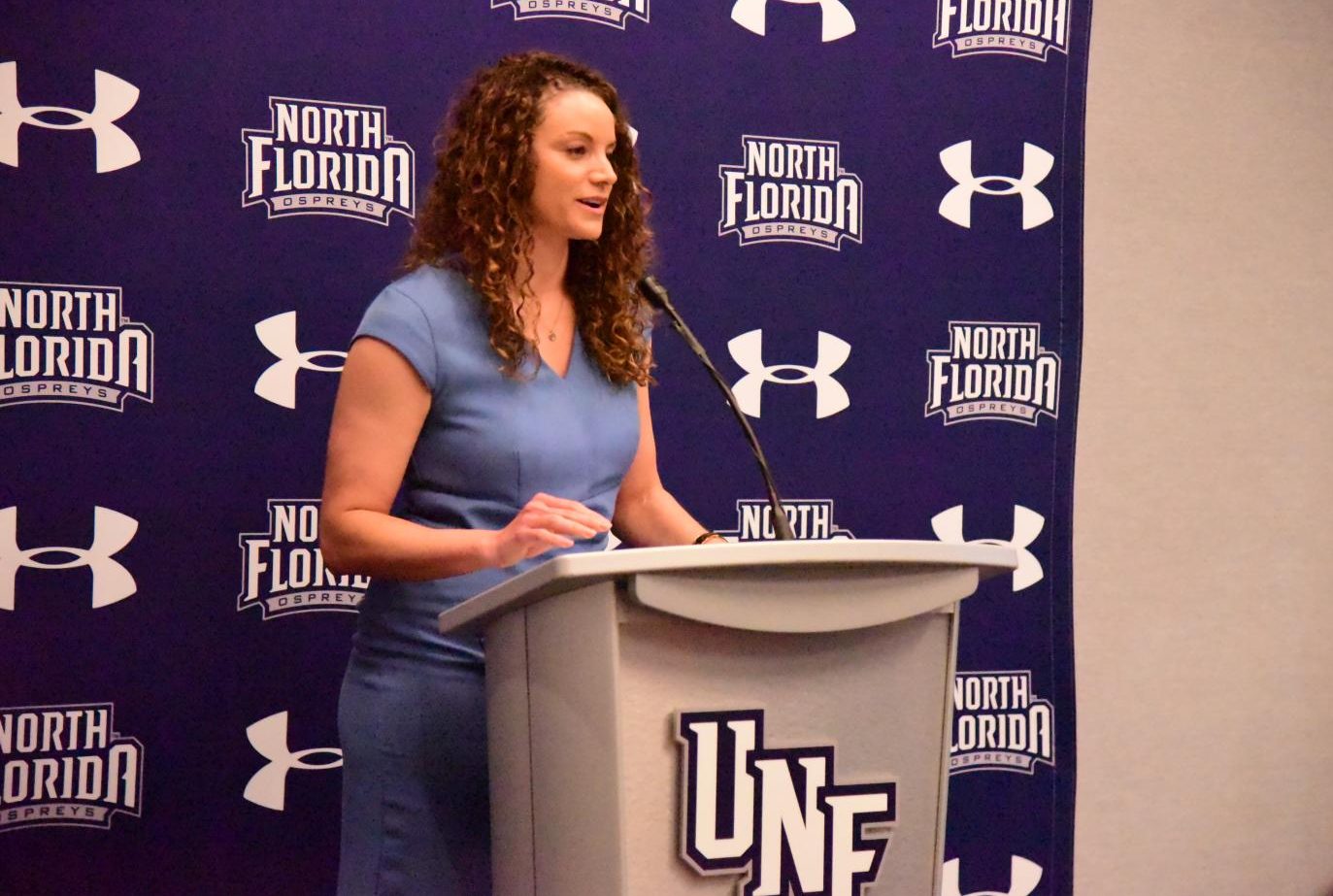 As a first-time head coach, things are different across all fronts. One upside of this new partnership is that there's room for experimentation and for Lambert to do things her way with a sandbox approach.
"I'm really excited to put my stamp on things and I feel like the way this program is poised right now, it's kind of a blank canvas," Lambert said. "There's so many opportunities to write history here."
Lastly, Lambert looks forward to building relationships around campus and becoming a member of the Osprey family. 
"The goals I have for this program are not gonna be accomplished, but it sure would help if we had student support," Lambert said. "It's a big deal to me to go support other student organizations and anything that women's basketball can do to show up for the other groups on campus, we'd love to do that."
The season may not begin until November, but Lambert is ready to hit the ground running. Coming off of a 7-20 season, it won't be easy, but she is up to the challenge.
___
For more information or news tips, or if you see an error in this story or have any compliments or concerns, contact [email protected].