UNF's Eden Meyer going to NCAA track finals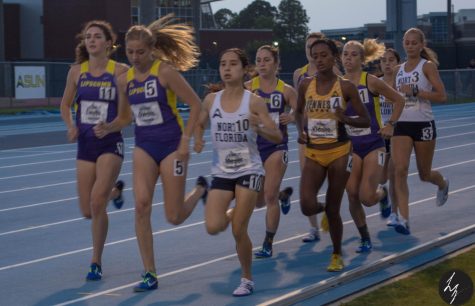 Eden Meyer qualifies for the NCAA Finals becoming the third track athlete at UNF to do so.
The Ospreys headed to Lexington, Ky. to compete in the NCAA East Preliminary on May 25.
This preliminary marked the second in Meyer's career.
For 20 laps, Meyer was able to lead a chase pack before falling back to 13th, according to head coach Jeff Pigg.
Pushing through and trying to keep her energy going, Meyer was able to finish in the 12th spot running a 33:59.39 in the 10,000m.
"It was so exciting to see Eden punch her ticket to Oregon tonight," said Pigg. "I am so proud of her."
Meyer clinched a spot in the NCAA Championship for the 10,000m event. She is the first qualifier since 2012 when Brianna Frazier qualified in the 400m.
Meyer was not the only Osprey to compete, junior Tyler Stahl competed in the 1500m in his first NCAA Regional competition.
Stahl was able to finish 30th out of 48 overall and ninth in his heat. Stahl clocked in with a run time of 3:51.80 just a less than a second away of having an advancing time in his event.
"Tyler closed out his junior season having dropped his 1500m time by four seconds. He had a great year and we are both already looking forward to next year," said Pigg.
Just a week before Meyer and Stahl were among five Ospreys to be named to the ASUN Track and Field All-Academic Team.
For Day 2 in Lexington, Ky. two more Ospreys will be competing in the action on May 26. Junior Alyssa Young will partake in the high jump event and sophomore Fynn Timm will compete in the 3000m Steeplechase.
Meyer will compete in Eugene, Ore. in the NCAA championship on June 6-10.
—
If you have any compliments or concerns regarding this article, please email [email protected].