All-American track star Eden Meyer reflects on historic season
 Video courtesy of ESPN.
Track star Eden Meyer ran all the way to the NCAA Track and Field Championship this season and finished with All-American honors.
The junior biology major made her way to Eugene, Ore. to run at the historic Hayward Field to compete in the 10,000 meter.
"We walked out onto the track and that was a crazy feeling in itself," said Meyer told the Spinnaker in a phone interview. "I thought for a while I would never be able to run on that track."
The runners lined up and before Meyer knew it they were running. She admitted that running alongside some of the fastest girls in the nation was "Scary, but awesome".
Meyer was able to run amongst the leaders for a few laps, thought she started to fall behind after a while.
"I felt really good the first four laps or so," Meyer said. "I was at the front for a few laps and all of a sudden everyone started to pass me. I was kind of freaking out at that point. Like wow I am dead right now."
Just as Meyer began to fall behind her family and coaches would help her get back into the race. She knew where her family and coaches were sitting and as she was running  by them and she heard their cheers. The cheering help her regain momentum and pass by some runners to get Meyer a finishing time of 33:54.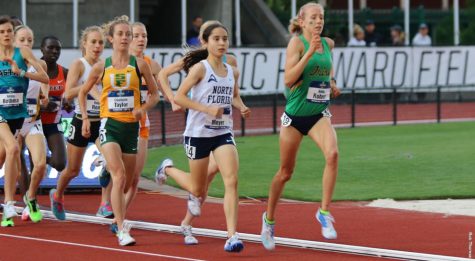 "The race was over, I was exhausted and at first I was like, wow that was terrible," said Meyer.
After being reunited with her coaches, Meyer was told how well she actually did. One of the first things her coaches told her was, by finishing in the top 16, received Meyer 2nd team All-American Honors.
Meyer received several congratulatory text messages from teammates who couldn't be there. With Meyer's family coming to see her run, they were even able to make the trip to Eugene a mini family vacation as well.
"Overall it was a really fun experience. I'm happy with how it went, but also I'm looking forward to hopefully getting another chance to go back and trying to do a little better," said Meyer.  "The experience was amazing and [there was] lots of stuff I will never forget."
Meyer has set a few goals for next season like heading back to the NCAA tournament and improving on last season. One of Meyer's self-proclaimed weaknesses is running in packs.
For now Meyer is taking a small break, but she is ready to put in the work to do better next season, though she appreciated her accomplishments in Oregon.
"I wouldn't be able to go anywhere if it wasn't for my coaches, my family, and God. Being able to finish the season like that is definitely a blessing and I'm really thankful for it," Meyer said.
—
For more information or news tips, or if you see an error in this story or have any compliments or concerns, contact [email protected].